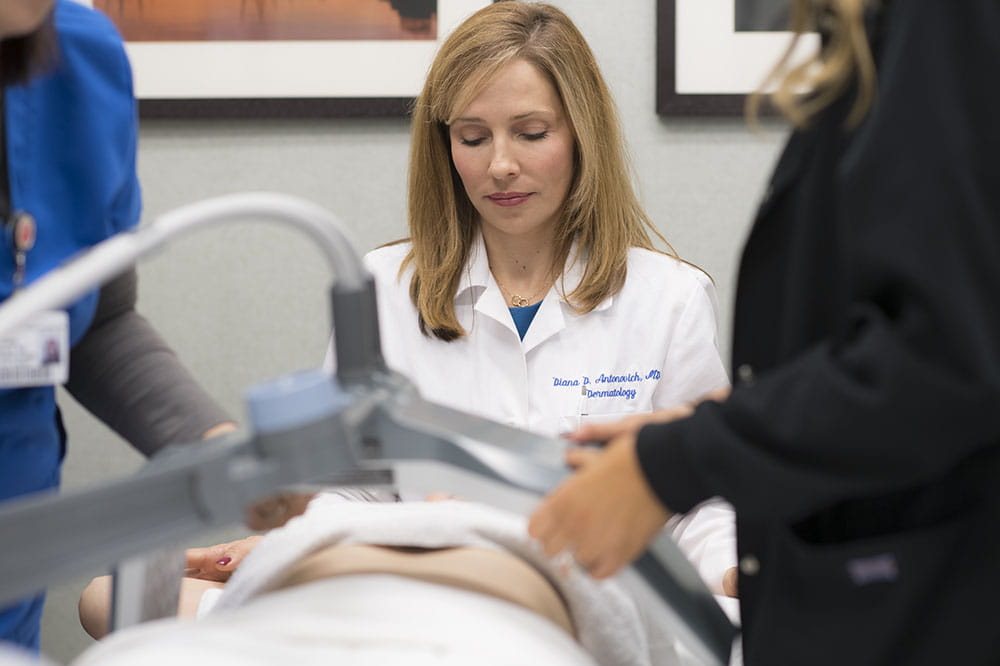 When the no-see-ums start to swarm and ice cream trucks begin to roll through Lowcountry neighborhoods, another sign of spring emerges in dermatologists' offices. People eager to look and feel better as they bare more skin in shorts and swimsuits come in to get spruced up for the season.
In this Q & A, MUSC Health cosmetic dermatologist Diana Antonovich describes some of the treatments they're interested in trying.
Q: What are the most popular treatments this time of year?

A: While Botox and soft tissue filler treatments are popular throughout the year, in the spring we see an uptick in demand for body-focused treatments such as fat reduction, laser hair removal and treatments to eliminate unwanted leg veins.
Q: What does fat reduction involve?
A: We offer three effective minimally invasive treatment options for fat reduction and body contouring – CoolSculpting, Vanquish and Exilis Ultra. CoolSculpting selectively destroys fat by freezing it. The body then dissolves and eliminates the injured fat cells. Treatments are minimally invasive, require no downtime and are associated with minimal or zero discomfort.
Vanquish ME uses radio frequency to painlessly and selectively destroy fat cells without any post-procedure downtime. Vanquish is a good choice for treatment of broader areas such as a full abdomen or "love handles."
Exilis Ultra uses a combination of radio frequency and ultrasound energy to primarily heat the skin, with the benefit being contraction and skin tightening. It is a great treatment option to use in combination with the fat reduction treatments or for contouring focal areas like the jawline.
Q: How quickly does it work?
It typically takes four to eight weeks to see benefits from most noninvasive or minimally invasive body contouring treatments. Treatment can really be customized, sometimes using a combination of technologies. Multiple body areas can be treated – the stomach area and love handles are the most popular sites. Arms, thighs, knees, "bra-fat" and even under-chin fat can also be treated. 
Q: Are there side effects?
Possible side effects vary depending upon the specific treatment. They're usually limited to minimal tenderness or mild and short-term skin redness.
Q: How does laser hair removal work?
Laser hair removal uses a light energy that's able to target hair and ultimately damage the hair follicle. Ideal candidates have fair skin and dark hair. This enables the laser to best focus on the hair. 
Although lasers can be used successfully on almost all skin types, laser hair removal is ineffective in treating grey or light blond hair. Alternate treatment options are needed in those cases. 
Discomfort from laser hair removal is minimal. You need multiple treatments, spaced four to six weeks apart, for the best results. Side effects are also minimal. They can include mild redness or pinpoint swelling around the treated hair follicles.
Q: Spider and varicose veins on the legs suddenly become a lot more noticeable when you put on a pair of shorts or a swimsuit. What can be done about that?
Visible veins on the legs are a common concern that can often easily be addressed with a simple procedure called sclerotherapy. Sclerotherapy involves the injection of a solution into the vessel, damaging it, so the unwanted vessel can be dissolved. 
While sclerotherapy is considered the gold standard treatment for leg veins, lasers are also an effective treatment, and, in some cases, the better option. Both procedures are well tolerated and associated with minimal discomfort.Expected temporary side effects are redness and potentially bruising.
Q: On a more serious note, one of the main things people come to you for is to check for skin cancer. What advice do you have, as a lot of us get ready to spend more time in the sun?
The vast majority of skin cancers are caused by the sun's ultraviolet rays, the good news being that most skin cancers are preventable with good sun protection measures. Cover up with protective clothing when possible, seek shade, avoid intense midday sun, and use a great sunscreen. Sunscreens should offer broad-spectrum protection against the sun's rays and have an SPF of at least 30. 
A recent study measured certain chemical sunscreen ingredients in the bloodstream of study subjects. Keep in mind that this does not mean the ingredients are harmful. On the other hand, the danger of skin cancer is clear – skin cancers can be deadly. If you want to play it safe, stick with sunscreens that use non-chemical physical sun blockers like zinc oxide or titanium dioxide, and limit sunscreen to areas that cannot easily be covered by protective clothing such as the face, neck and hands. The best line of defense is protective clothing. The bottom line, we can enjoy spending time outdoors. We just need to be smart about it.