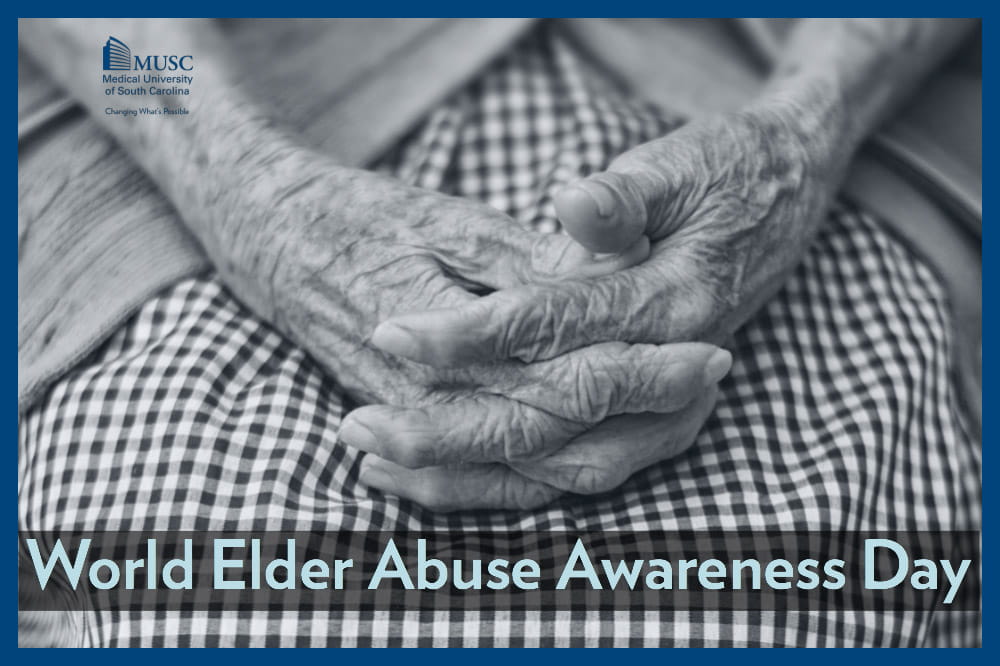 One in 10 older adults living in the community in the United States has been a victim of abuse since age 60. In South Carolina, the statistic is even worse – more than 13% of seniors who live independently experience psychological, physical, sexual or financial abuse. Those figures do not include seniors who live in nursing homes. 
World Elder Abuse Awareness Day is June 15, and MUSC is participating with a week's worth of events.

Melba Hernandez-Tejada, DHA, Ph.D., a research associate professor in the MUSC College of Nursing and research scientist at the Ralph H. Johnson VA Medical Center, said MUSC can play an important role in keeping senior citizens safe. "Patient safety includes screening for this type of situation even if it might be uncomfortable to talk about," she said.

Many seniors make multiple trips to MUSC Health clinics each year, which gives doctors and nurses a unique chance to evaluate them for signs of abuse. The MUSC Elder Abuse Assessment Training and Mental Health Services Program, which Hernandez-Tejada directs, offers training to health care providers and community agencies on how to screen for abuse and where to send people for help. The program also offers evidence-based mental health treatment delivered via telehealth to reach out to these victims who otherwise would not be able to receive the help they need.

"We have been trying to create awareness in our community, not only in the Tri-county but also in our MUSC community about this issue that is sometimes overlooked by providers," she said.
Hernandez-Tejada said the most common type of abuse is psychological. Because psychological abuse isn't considered a "real" crime, though, it isn't easy to prosecute.

The next most common type of abuse is financial abuse, which can be prosecuted.

Physical abuse and sexual abuse are also factors, and Hernandez-Tejada pointed out that there tends to be overlap between the different types of mistreatment. Elder abuse can also sometimes be an outgrowth or continuation of family violence or domestic violence.

A common misconception is that older women are not subject to domestic violence or that, if they suffered domestic violence at a younger age, the violence stops after they turn 60. But it doesn't stop, Hernandez-Tejada said. "Abuse in general against women, whether they are younger or older, is a problem in South Carolina," she said.

Unfortunately, the majority of the perpetrators in cases of elder abuse are living with the victims. It could be a family member such as a spouse, child, or grandchild who initially gets frustrated that the elderly person is less independent or is dealing with health issues that impose upon them, or it could be an adult child living at home because of mental health or drug problems.

One of the best ways to protect the community's elders is through social connections, Hernandez-Tejada said. "We have to make them visible and connected. Sometimes when somebody retires or they are not as active as they were in their younger years, they disappear a little bit from the eye of the public," she said.

The more isolated and less visible a person is, the more that person is vulnerable to abuse.

All events during Elder Abuse Awareness Week at MUSC are free and open to the public.
Self-defense for Seniors
11 a.m. to noon Monday, June 10
MUSC Wellness Center, 45 Courtenay Drive


Lifting Voices Up: Social Connection and Aging Panel
Noon to 1 p.m. Tuesday, June 11
MUSC Bioengineering Building, Room 110, 68 President St.


World Elder Abuse Awareness Day Resource Fair
11 a.m. to 1 p.m. Thursday June 13
Charleston Medical District Greenway, Doughty Street
Resource Fair Participants:
| | | |
| --- | --- | --- |
| People Against Rape | My Sister's House | MUSC Advocacy Program |
| Charleston County Probate Court | Origin SC | MUSC Sexual Assault Nurse Examiner Program |
| Trident Area Agency on Aging | The ARK of SC | City of Charleston Police Department |
| Respite Care Charleston | Trident United Way | East Cooper Community Outreach |
| FOX Rehabilitation | City of Charleston Mayor's Office on Aging | AARP |
Happening on Facebook
Latest Tweets
Tweets by MUSCatalystNews