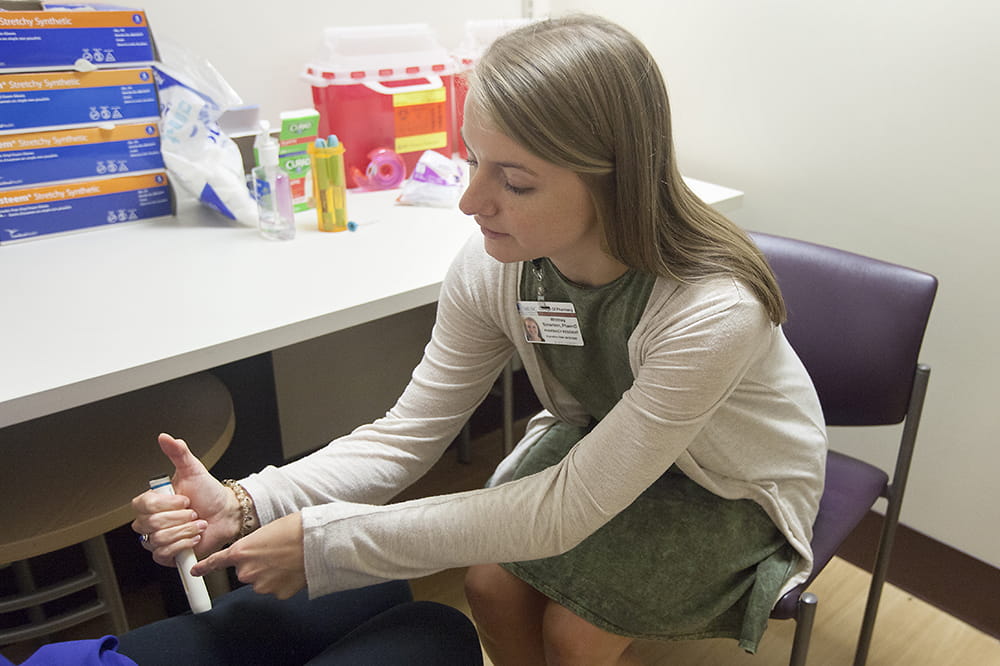 Learning how to inject a prescription medication can be a daunting task for patients. A pilot trial in the MUSC Health Specialty Pharmacy seeks to train people to give themselves the injections, saving them from extra trips to the doctor's office and ensuring they're getting the medicine they need.

Whitney Simerlein, Pharm.D., a community-based pharmacy resident, received a grant from the American Pharmacists Association Foundation to test the idea. She said the program started in January and has seen a few dozen patients so far.

Simerlein got the idea from one of the people overseeing her residency, Kristin Beeker, Pharm.D., a clinical pharmacy specialist. Beeker realized that many of her clinic patients were uncomfortable injecting themselves. It just wasn't something most of them had ever done before, Beeker said.

"Our typical education is over the phone, and you can imagine if you've never given yourself an injection and you're learning over the phone, it's kind of intimidating," she said.

Simerlein's trial focused on people who need prescriptions from the specialty pharmacy, which handles drugs that are very expensive, meant for complex conditions and may require specific storage conditions. The patients are referred from the rheumatology, cardiology, dermatology, gastroenterology and neurology areas, she said.
"We want to enable patients to do it themselves, but if they can't we want to help them."

Whitney Simerlein, Pharm.D.
Because these drugs are so expensive, it takes extra work to get them approved by insurance providers, said David Cruse, Pharm.D., and manager of the Specialty Pharmacy and Pharmacotherapy Clinics. Patients can't simply walk from the doctor's office to the pharmacy and get the prescription filled right away. It can take a few days for the prescription to be approved, so patients who need help learning how to do the injections would need to schedule another visit and pay another co-pay to see a doctor or another provider. It's much easier for the patients to come see a pharmacist instead and get hands-on help.

Simerlein said some patients were able to learn in one visit and handle injections by themselves from then on, while others have felt more comfortable continuing to get help. "We want to enable patients to do it themselves, but if they can't we want to help them."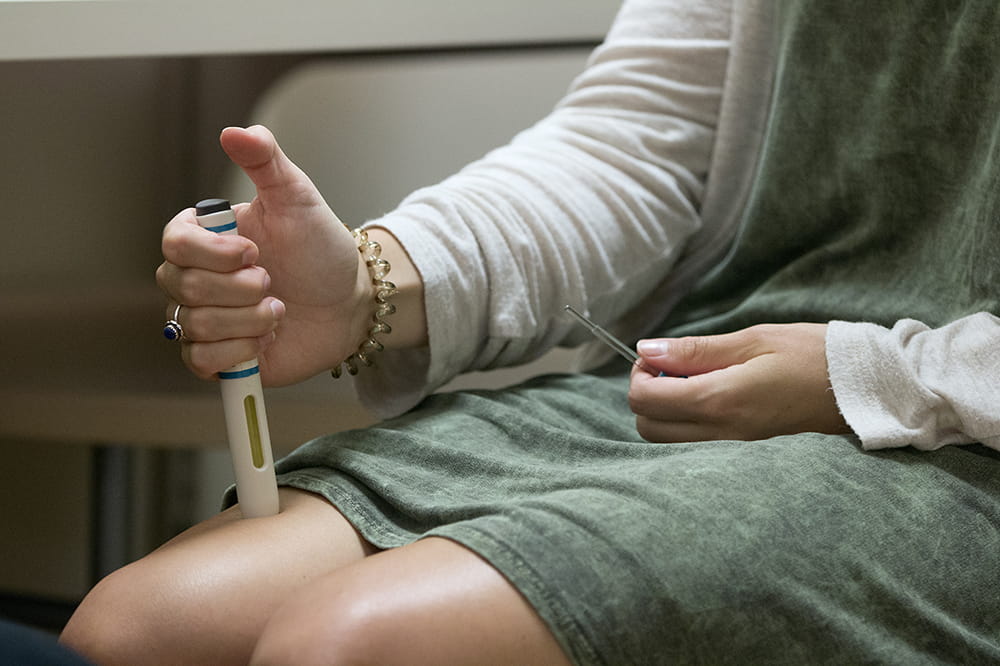 Cruse said the pharmacy team takes very seriously its responsibility to ensure that patients are getting necessary medication. "We take it upon ourselves to make sure that we don't just make sure the drug ends up in the patient's hand, but that they're actually taking it. So this was a way for us to increase adherence," he said. "If we can give them a little extra support, the likelihood of them continuing their therapy and getting better from a symptomatic perspective was going to increase."

Simerlein said she included flyers about the clinic with mailed prescriptions and got a good response. Some people said they'd been injecting themselves with their medication for a few months but weren't sure they were doing it correctly, so they wanted the reassurance of a hands-on clinic. One person came all the way from Abbeville, more than three hours away.

Step-by-step instruction is vital. Simerlein gave the example of one patient who was taking Victoza, a drug that is an injectable, though not one that must go through the specialty pharmacy. The patient thought he'd been injecting himself correctly each day. In fact, he hadn't been, because he hadn't been removing the needle cap. The person who first demonstrated the injection hadn't removed the needle cap because it was just for practice, but the patient had continued on exactly like the demonstration.

Cruse said the clinic has been well-received by both patients and doctors. Simerlein's residency ends this month, but she hopes that the clinic will continue. She also sees new avenues for research in comparing how patients do with this approach as opposed to the standard of education over the phone or what other specialty pharmacies might be doing.

"I think there's a lot more that could be done with this in coming years," she said.
Happening on Facebook
Latest Tweets
Tweets by MUSCatalystNews
Suggest a Story
Have an idea for MUSC Catalyst News? Contact our editorial team and let us know.