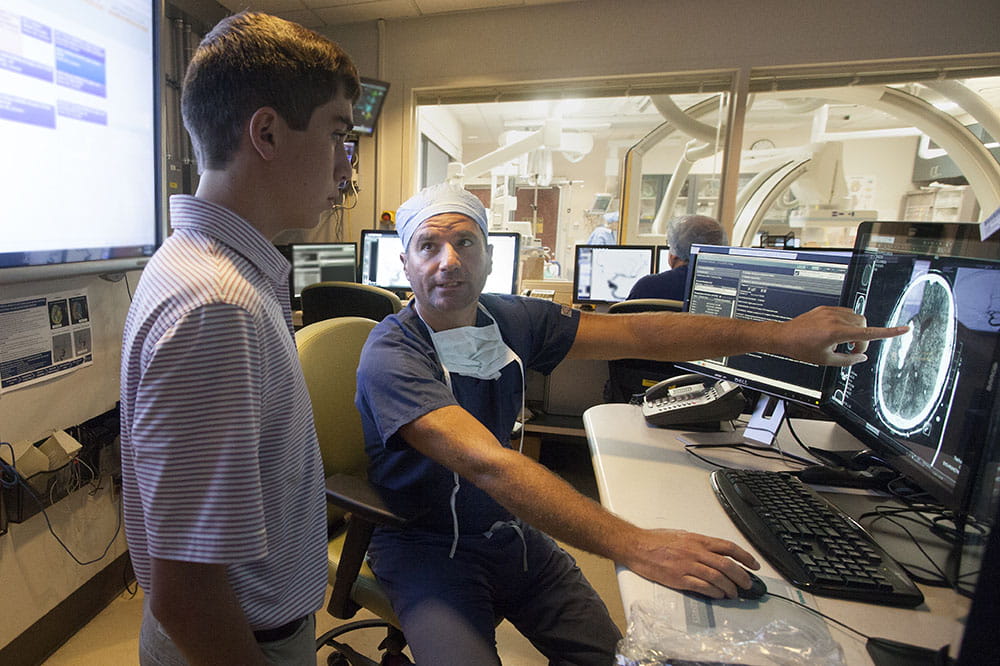 There it is, in filmy black and white. The hemorrhage that almost killed his father three years ago.
Sixteen-year-old Brook Brumfield II is sitting in an operating suite at MUSC Health with Alejandro Spiotta, the neurosurgeon who saved his father's life. Spiotta is showing him a 3-year-old image of his dad's brain.
"So this is the hemorrhage here on the right side," Spiotta explains, pointing to a large white area on the brain scan. "You can see the pressure, the fluid-filled spaces right here? And things should look symmetrical."
Brook, a junior at Trinity-Byrnes Collegiate School near Florence, South Carolina, is fascinated. This is what he's been waiting to turn 16 for – the chance to learn from Spiotta. Inspired by what he saw Spiotta and his team do, Brook wants to become a doctor. The neurosurgeon had always been up for letting Brook shadow him, but asked him to wait until he was 16.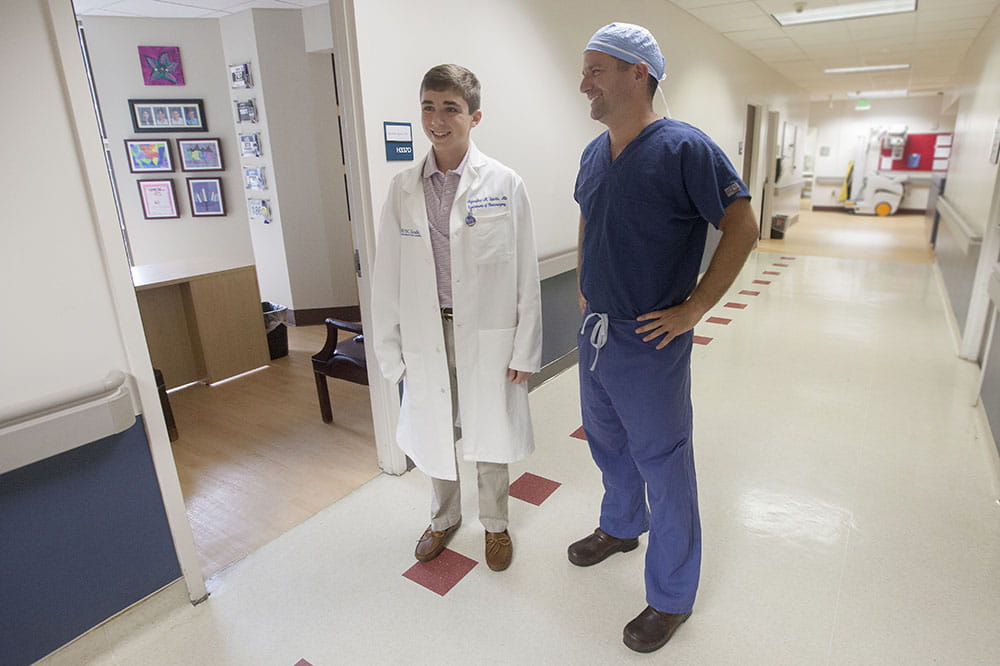 So this is the day. Brook, his mother and his grandmother have driven about two hours from their home in Timmonsville to get here. Spiotta gives Brook a white doctor's coat to try on so his mom can snap a photo. "Aw, that looks awesome," Denise Brumfield says.
This visit is nothing like the day she, Brook and his dad first arrived at MUSC Health. There were no smiles then.
Denise and Brook Sr. were watching their son play soccer in Hardeeville when she realized something was wrong with her husband. "He was sitting on the bleachers next to me, and he scooted over to me and started talking to me, and he was slurring his speech. I said, 'You're having a stroke.'"
Denise, a physical therapist who has worked with stroke patients, insisted that he be flown to the Comprehensive Stroke Center at MUSC Health. That's where she and her son met Spiotta.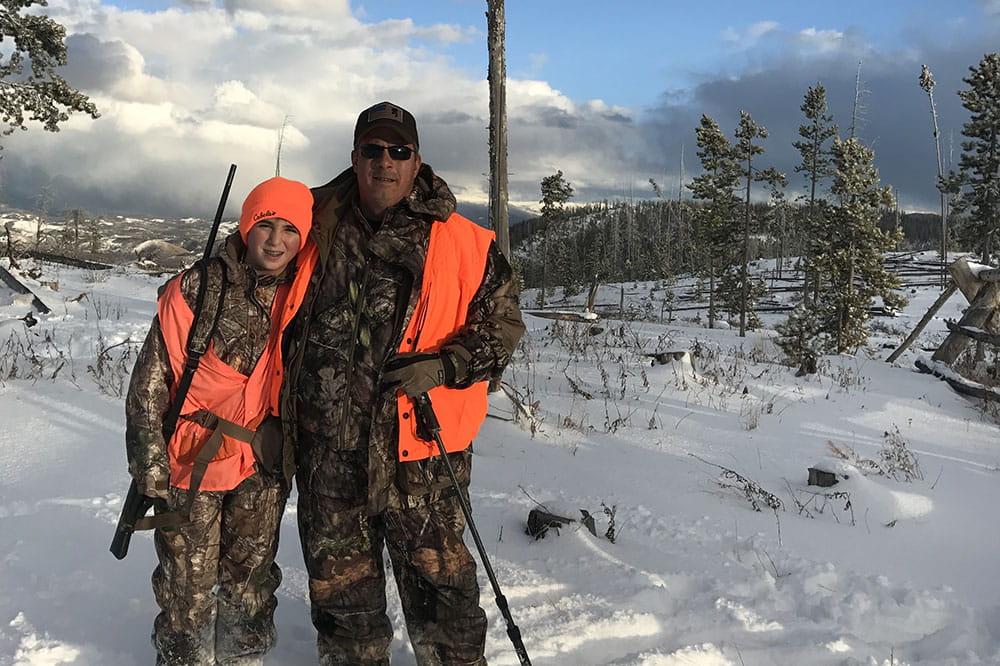 Brook, 13 at the time, was terrified. "The worst fear at that point for me was not knowing what was going to happen. That freaked me out."
Talking with Spiotta helped change that. "He talked really confidently. The first time I met him I liked him," Brook remembers. "Mostly, I was asking questions about what was going to happen. That's what sparked my interest. When I asked questions, they had answers and solutions. They had multiple solutions, which I thought was cool. They didn't just say, 'This is what we're going to do.' They said, 'We have several possible solutions.'"
Spiotta says the family opted for a clinical trial to treat the intracranial hemorrhage, which means bleeding inside the skull. "He was fortunate. At the time he came in, we were one of about 20 sites in the world that were trained and capable of doing a new minimally invasive procedure that's part of a trial called the Mistie III."
The surgeon made a small opening in Brook Sr.'s skull and placed a catheter into the area of the hemorrhage. Then he used the drug tPA, tissue plasminogen activator, to dissolve the blood clot, letting it drain over the next few days.
"He ended up having a really remarkable recovery," Spiotta says.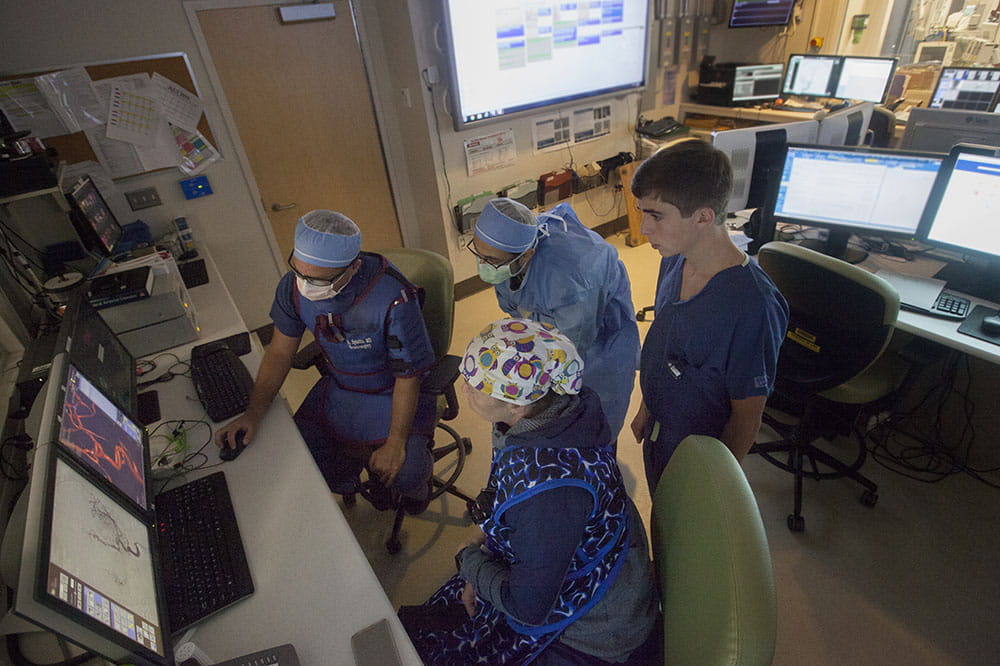 A year later, Brook Sr. underwent treatment for an unrelated intracranial aneurysm. It wasn't the cause of the hemorrhage and was on the other side of the brain, but he and his wife were not willing to take any chances. That procedure was uneventful, and at his one-year follow-up appointment, the aneurysm was gone.
Today, Brook Sr. is almost completely back to normal, able to work, enjoy his family and go hunting with his son. Brook calls Spiotta a role model. "I watched Dr. Spiotta help a lot of people, and I watched him help my dad. And I just thought it was really cool."
So three years later, Brook is spending the day with the neurosurgery team. Spiotta says it's the first time he's had a patient's relative shadow him.
"It's neat for me. Now he's older and thinking about careers. He's thinking about medicine and considering neurosurgery. I'm just thrilled he can shadow us and learn what we do and decide on his career path – because he had an unusual experience with his dad having gone through that."
Spiotta can relate. "I had a grandfather, when I was about his age, who had a heart transplant in New York City. That was my inspiration for going into medicine. Those experiences make a big impact on you."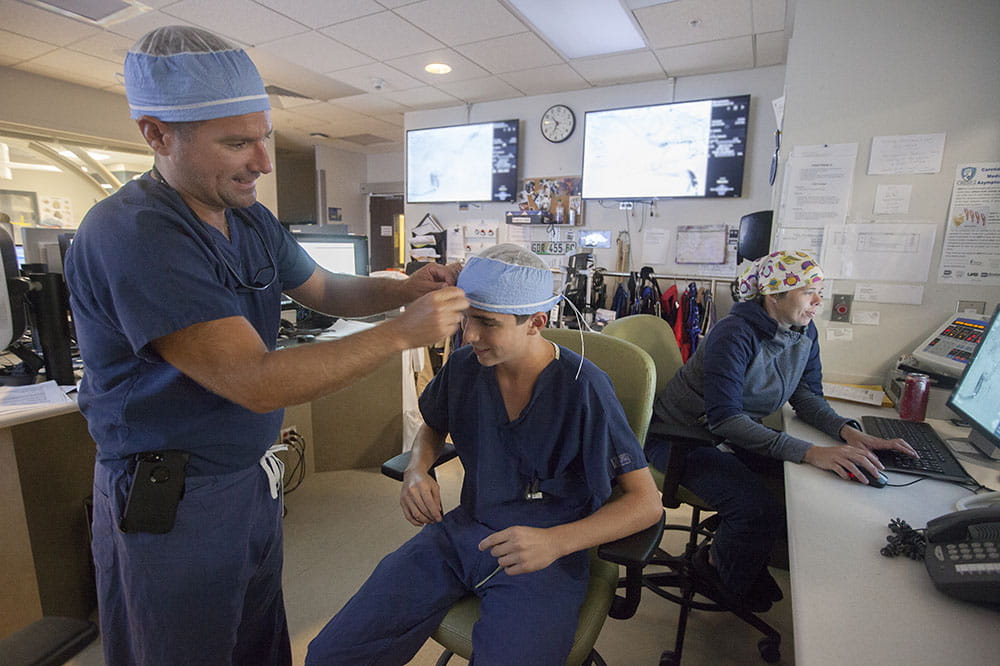 Brook's mom and grandmother leave him with Spiotta for the day. Later, Brook describes what he learned. "I saw several procedures. Several where Dr. Spiotta went up and put coils in aneurysms and fixed them. We had lunch around 11, and then around 1 or 2, I went to the OR to see a procedure where a resident drilled a hole into the person's head to relieve a stroke victim's pressure on the brain. I saw several other procedures where they put the wire up the wrist and went up to fix aneurysms and check to make sure there were no more."
And yes, it took a little getting used to. "At first, I'm not gonna lie, it made me a little queasy. But after I started to watch, it became interesting to see what they were doing."
Brook also realized how much pressure the neurosurgery team is under. "Doctors are trying their best; they're helping people as they can. Sometimes it's a hard situation. It kind of opened my eyes to the other side of it. Doctors are put under a lot of heat. They're put on the spot a lot of times."
However, none of that discouraged the straight-A student. He hopes to one day become the kind of surgeon who can save someone else's dad. "If anything, it made me want to do it more."