Even though it was 90 degrees outside (insane barking begins) – whoops, totally shouldn't have said that word – dozens of typically boisterous pups were on their best behavior during the Medical University of South Carolina's annual Blessing of the Dogs event, which was held on the Horseshoe Friday, Oct. 4.
Cathy Bennett, Pet Therapy coordinator for MUSC Health, kicked off the event saluting the hospital's pet therapy volunteers – both human and canine – saying a few words about the Pet Therapy Program.
"Today I'm not going to bore you with statistics like how last year our pet therapy volunteers saw close to 6,000 patients. I'm not going talk about that," she said to smiles and laughter. "Or how we gave away 17,500 dog trading cards to patients last year alone. I know that because I have to pay attention to my budget."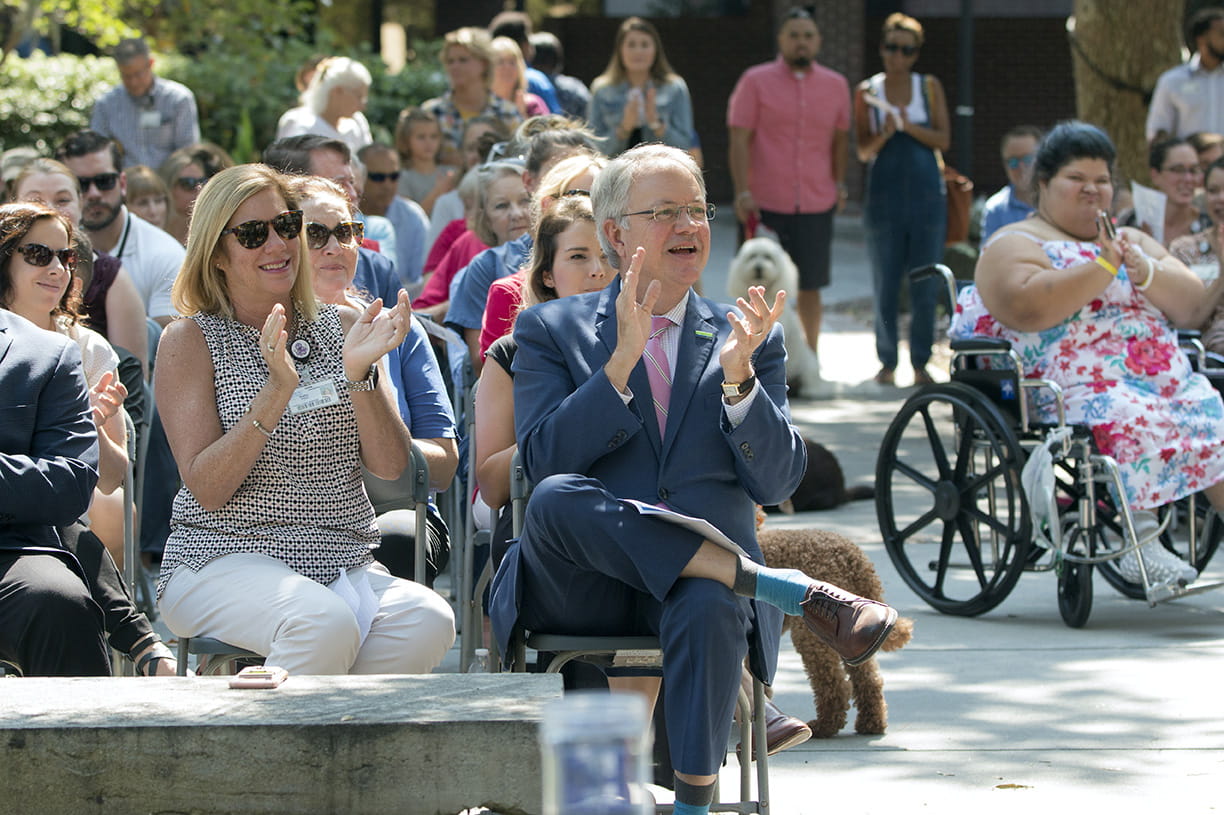 Though most of the crowd was hanging on her every word, the truth is, a few were simply licking themselves. But that didn't stop Bennett from sharing her gratitude, especially for the 84 people and 93 dogs currently in the pet therapy program. She also didn't want to make too big a deal of the success the program has had in both the hospital and the community at large, but others weren't willing to drop it – droooop it. Kathy Cole, wife of MUSC President Dr. David Cole, and City of Charleston Mayor John Tecklenburg both shared their pride and appreciation for what the Pet Therapy Program means to MUSC and Charleston.
"To go into a patient's room and provide comfort and care and love to those who need it the most is an amazing healing opportunity. And you do that every day for our patients," Cole said to the volunteers.
Tecklenburg echoed Cole's comments. "The wonderful people who are a part of this Pet Therapy Program … I just want to celebrate today with you. Thank you for all you do for this community."
There were even testimonials to the power of pet therapy by staff, as well as former patients, including Emma Katz, who in her own words "spent more time in a hospital than any kid ever should." But, she added, she got so much out of her interaction with MUSC's pet therapy program that when she was discharged, she began volunteering for a service dog organization.
It was clear from the enthusiastic response of the audience that everyone wants to the program to stay – staaaaaay. Good boy.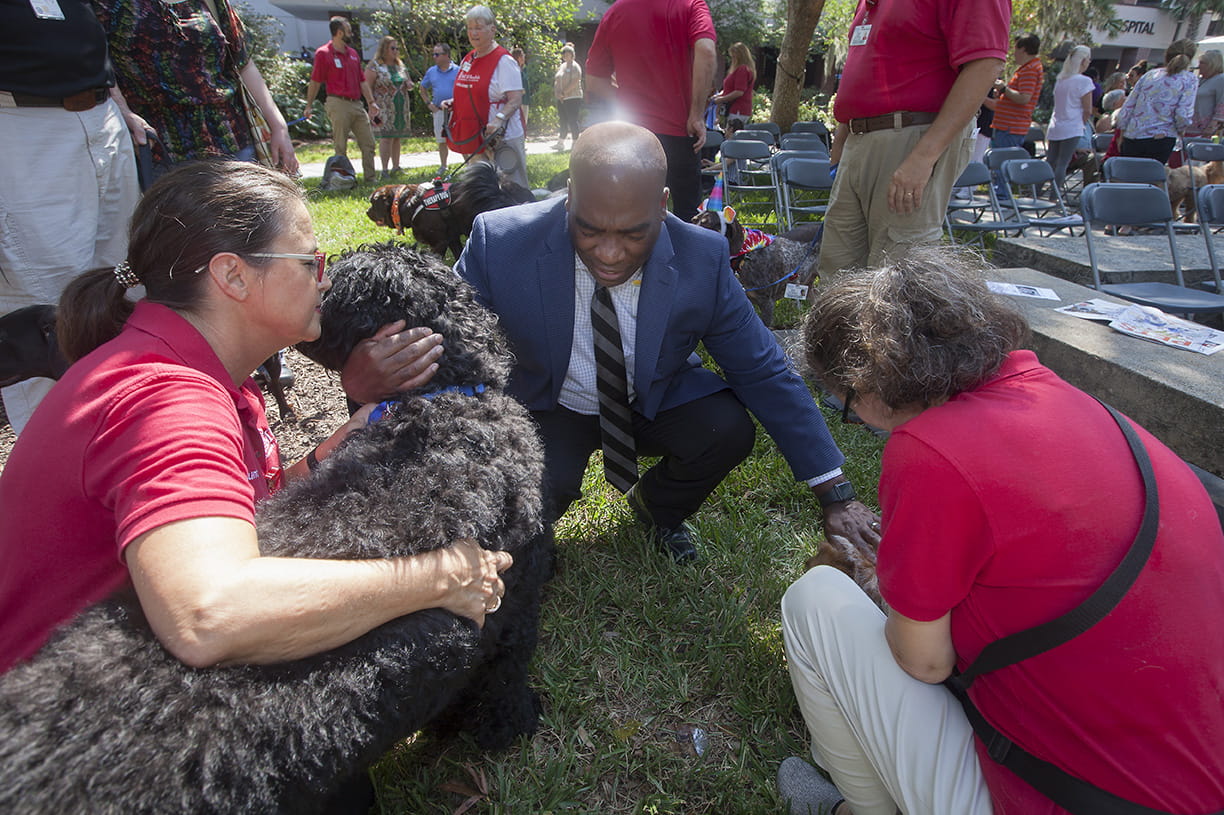 The Blessing of the Dogs is an annual event that honors the birthday of Saint Francis of Assisi, the patron saint of animals, who according to Bennett, "understood the magic and the power behind petting a dog." Organizers felt devoting at least one day a year to celebrate all the hard work the volunteers and dogs put in was the least they could do. In addition to impassioned words from local leaders and pet therapy advocates, the event featured food (hot dogs, of course), dog treats, dog toys, even a kissing booth where people could get a smooch from a pooch. 
The event culminated with the Rev. Herman "Frank" Harris and the Rev. George M. Rossi blessing all the pups in attendance – collies, poodles, huskies, even a hound wearing a unicorn horn headband.
No accidents were reported at press time, and officials say everybody was a good boy and girl.
Yes, they were! Yes, they were!
Suggest a Story
Have an idea for MUSC Catalyst News? Contact our editorial team and let us know.