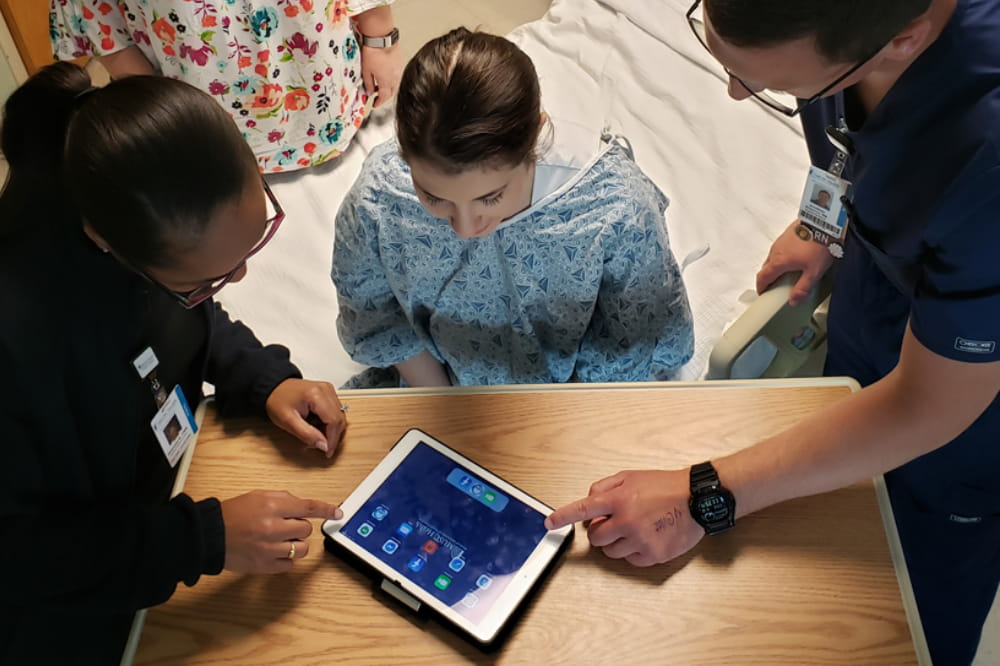 One of the more difficult aspects of the coronavirus pandemic for people who must go to the hospital – whether with COVID-19 or with other ailments – has been the restrictions on visitors. While visitor restrictions are necessary to slow the spread of the virus, they can make a patient feel even more lonely or frightened during a hospital stay. Happily, technology has been able to bring people together. 
The Center for Telehealth at the Medical University of South Carolina has been involved in multiple aspects of the COVID-19 response, including screening people for eligibility for testing, increasing telehealth visits for regular doctor's appointments and allowing nurses to monitor COVID-19 patients recovering at home. But the center has also become involved in patients' emotional well-being by setting up visitation iPads for use by patients who don't have their own devices.

This technology was built into the design of the MUSC Shawn Jenkins Children's Hospital and Pearl Tourville Women's Pavilion, but it didn't exist at MUSC Health's other Charleston hospitals or the regional hospitals.

Emily Warr, R.N., director of operations for the Center for Telehealth, said the staff understands how deeply the visitor restrictions affect people.

"Some of the more heartbreaking stories are around patients in the ICU who are critically ill and even close to death. We have a strict limitation of only two visitors even for those patients. That's tough if you're a father of three and you're dying," she said. "So we started in ICUs for that reason – because most patients in ICUs don't have their own devices, and they're critically ill and have a real need for connection with their families."

The hospital system already had iPads that were used as aids during rounding and to obtain electronic consents, and it received more as donations when the crisis hit, Warr said. The Center for Telehealth teamed with Information Solutions to reconfigure the devices so that patients could use FaceTime, if they already had an Apple ID, or an app that creates a unique "room" that family members can connect to.

By April 7, all nursing units in Charleston had access to the iPads. The following day, the center shipped some of the reconfigured iPads to the Lancaster and Florence divisions.

"Once this current crisis is over, it'll be interesting to see what happens," Warr said. "I would not be surprised if this virtual visitation option becomes the new norm because it's really not a unique problem to COVID that some family members can't get in to see their loved ones while they're in the hospital. Beyond visitation, we're also using the iPads to engage family members in care planning discussions with the clinician team during rounds and for important updates."
"I would not be surprised if this virtual visitation option becomes the new norm because it's really not a unique problem to COVID that some family members can't get in to see their loved ones while they're in the hospital."

Emily Warr, R.N., director of operations
Center for Telehealth
Besides repurposing the staff iPads for patient use, the Center for Telehealth also reworked carts that had been used to monitor certain at-risk patients. The continuous virtual monitoring carts debuted in 2017 as a means to monitor patients with behavioral problems at the Institute of Psychiatry. They were then expanded to monitor medical patients who were labeled as fall risks and have also been used to monitor patients who might try to hurt themselves. 
As designed, the carts work by having teams that continuously watch the monitors and speak through the carts when necessary – for example, when a fall-risk patient tries to get out of bed, a staff member will ask the patient to stay put and alert a nurse. But the center staff quickly realized that these carts could be deployed to the COVID-19 patient area to allow doctors and nurses to speak to patients without having to enter the room.

Doctors and nurses still enter the room to conduct physical exams of COVID-19 and potential COVID-19 patients. But the carts allow them to cut down on face-to-face visits, which reduces the amount of personal protective equipment they use as well as potential health care worker exposure to the novel coronavirus. Since the beginning of this particular initiative, more than 5,000 calls have been made using these devices, representing a significant decrease in health care worker exposure and use of PPE.

The center is also using some of the iPads as entertainment devices for COVID-19 patients. Warr said the COVID-19 unit is a retrofitted nursery, meaning there are no televisions or other means to entertain oneself. Seriously ill patients don't notice, but those who are recovering can now use the iPads that have been outfitted with about a dozen apps to enable livestreaming and TV, Warr said.

With iPads suddenly more difficult to buy, as everyone tries to get their hands on one during the pandemic, it was nice to have a fleet of iPads already on hand that the center could reconfigure to meet patient needs, Warr said.
Happening on Facebook
Latest Tweets
Tweets by MUSCatalystNews
Suggest a Story
Have an idea for MUSC Catalyst News? Contact our editorial team and let us know.