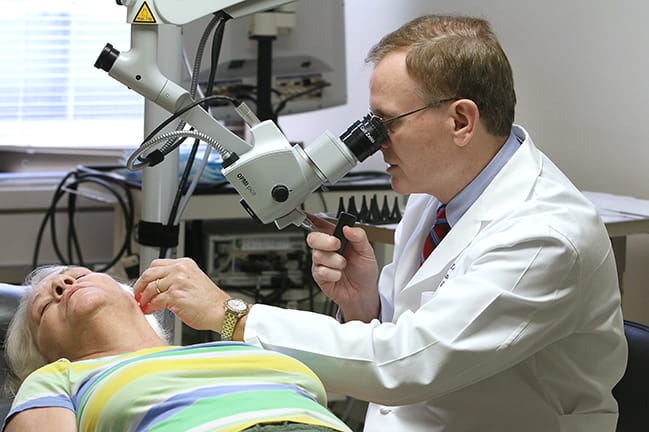 The Otology-Neurotology Division is one of the nation's premier centers of excellence providing comprehensive patient care for all disease and disorders involving the ear and adjacent skull base in children and adults. The division is comprised of neurotologists (ear specialists), audiologists, speech-language pathologists, and physical therapists who work together to provide top-tier clinical care, advanced teaching, and pioneering research.
Our neurotologists (ear specialists) are all fellowship trained from the best institutions in the world to provide the most up to date care for ear disorders. The division is the largest in the region with four neurotologists, eight audiologists, a physician assistant, and a top tier hearing research team. We take a comprehensive team approach to every patient we treat to provide optimal outcomes.
Our Specialized Programs
We have developed treatment teams around particular diagnoses to allow enhanced collaboration between disciplines to improve patient outcomes. Examples include our Cochlear Implant Program, Skull Base Program, and Vestibular and Balance Program.
Our Technology
We utilize the most advanced technology to provide optimal outcomes for our patients. Whether through digital image systems in outpatient examination rooms, use of image-guidance and endoscopes in the operating room, or non-surgical management of acoustic neuromas through Gamma knife radiosurgery (Perfexion), we are able to provide the most innovative treatments available.
Our Teaching
The word "doctor" originates from the Latin word meaning "to teach" and we take this definition seriously. We teach patients about their diagnosis and treatment, teach our residents and fellows how to provide excellent patient care, and provide educational courses for community and academic physicians.
We evaluate and treat approximately 5,000 patients annually, many of whom require care for the following diseases and conditions:
From hearing aids to cochlear implantation, we provide comprehensive management of all causes of hearing loss in children and adults. Learn more about the causes and treatments of hearing loss.
While acoustic neuromas (vestibular schwannomas) and cerebrospinal fluid leaks are the most common pathologies, we also provide exceptional management of more rare lesions. Learn more about the skull base lesions we treat.
Our team is equipped to manage and treat all causes of tinnitus. Learn more about tinnitus and the treatments available.
Ear infections are common and can range in severity from otitis media to cholesteatoma. We are trained and equipped to manage the full spectrum. Learn more about infections affecting the ear and available treatments.
Our vestibular and balance center provides comprehensive management of all causes of imbalance and vertigo. Learn more about diagnoses and available treatments.
Cochlear implants are a surgical option for treatment of hearing loss. Learn more about our cochlear implant program.
Our Research
Together with the hearing research program and clinical studies division, we have one of the largest and best funded ear and hearing research centers in the United States. Our areas of interest range from basic science to clinical trials. This allows our division to provide the most advanced treatments available to our patients.