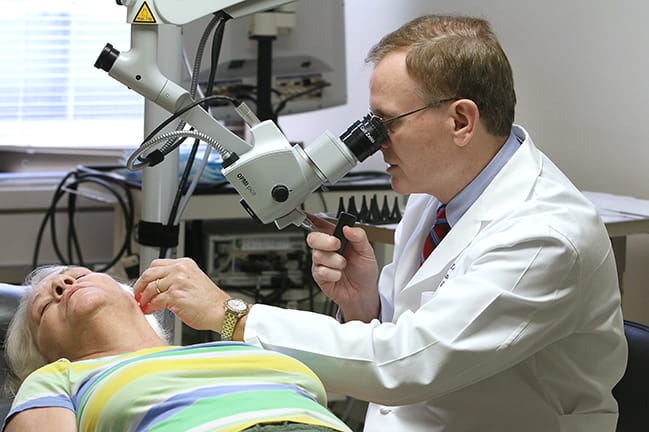 Ear, Nose, and Throat (ENT) specialists at MUSC Health provide unsurpassed patient care and treatment through our extensive and comprehensive centers and programs in the greater Charleston area. Our ENT doctors are nationally recognized physicians, most of whom have subspecialty training. The experience and expertise our team brings to work every day provide MUSC patients with the best possible care, not only in the Charleston area, but across South Carolina and the Southeast.
Subspecialties, Multidisciplinary Programs & Centers of Excellence
Airway & Aspiration Center for Children
Aural Atresia & Microtia Program
Audiology & Hearing Aids
Cochlear Implant Program
Cosmetic Dentistry
Craniofacial Anomalies, Cleft Lip & Palate Team
Ear Surgery (Otology)
Evelyn Trammell Institute for Voice & Swallowing
Facial Paralysis Rehabilitation Center
Facial Plastic & Reconstructive Surgery
Head & Neck Cancer
Maxillofacial Prosthodontics
Minimally Invasive Salivary Gland Surgery
Pediatric Ear, Nose & Throat
Skull Base Surgery Center
Sinus & Allergy Center
Sinus Disease (Rhinology)
Swallowing Disorders
Thyroid Surgery
Velopharyngeal Insufficiency Team
Vestibular & Balance Program
Voice Disorders (Laryngology)
Wendy and Keith Wellin Head & Neck Tumor Center
Our number one mission of providing excellence in patient care is made possible by access to cutting-edge technology, the ability to rapidly adopt our research developments and those by others in the field, and a strength in the diversity and collaboration between our many subspecialty services offered. By combining cutting-edge technologies with laboratory discoveries, we optimize health and quality of life for our patients.
By collaborating with hundreds of other medical specialists at MUSC Health, we can truly provide a multidisciplinary approach to certain diseases, which can make the critical difference.
Learn more facts about our award winning department by reading our ENT Newsletters.
Additional Care Team Members
Clinical Research:
Shaun A. Nguyen, M.D., MA, CPI
Education
The Department of Otolaryngology - Head & Neck Surgery at the Medical University holds as its mission the commitment to improving the quality of life of individuals and families through patient care, teaching, and the discovery of new knowledge. We believe that through the exceptional care of patients, the firm dedication to educating future otolaryngologists and the vital performance of research, the department is achieving its mission.
For more information on our work in the areas of education and research, please visit our Education website.