Ear, Nose & Throat (ENT) Services
ENT conditions continue despite new demands on our healthcare system due to the COVID-19 virus. MUSC Health ENT specialists are committed to providing safe access to nationally recognized care to you and your family during this unprecedented time. Through our virtual care network you are able to connect directly with our care team members who can help with diagnosis and treatment.

Select appointments available. Call 843-792-3531 to schedule a virtual visit.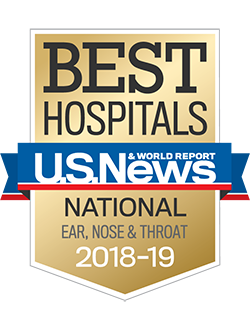 We are the ENT specialists of MUSC Health. Our mission is to provide the best possible care tailored for individual health needs. With deep experience, best-in-class expertise and enthusiasm, our strength lies in the diversity and collaboration among our many subspecialty physicians – enabling a multidisciplinary approach that can make the critical difference. Our physicians have received fellowship training, which is one to two years of additional training in a specific area beyond basic ENT residency. Those areas include diseases and disorders of the ears, nose and sinuses, salivary glands, and voice and swallowing. Our physicians also specialize in facial plastic and reconstructive surgery and head and neck cancer, including the thyroid and parathyroid. Because their practice is limited to a specialty area within ENT, they have become highly skilled and offer unparalleled experience for both adults and children. We combine laboratory and research discoveries with cutting-edge technologies, and genuine empathy to optimize quality of life for our patients. We love what we do, and we would be privileged to care for you and your loved ones.
With extensive programs and several comprehensive centers in the Charleston area, we serve the local community as well as patients from across the Southeast and beyond.
Contact Ear, Nose & Throat
Our MUSC Health care team can help.