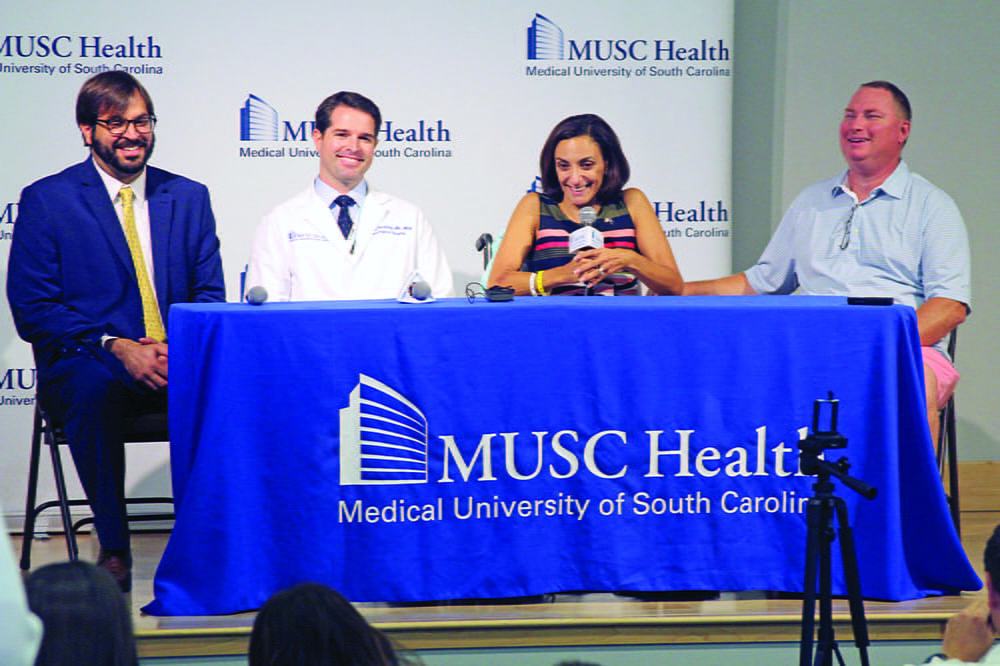 After losing a congressional race and almost losing her life in the same year, former MUSC Health patient Katie Arrington has something to say. She'll share her story on Trauma Survivors Day at the Medical University of South Carolina. In a last-minute change, her husband will read her speech in Arrington's place because of an unexpected work-related scheduling conflict. Arrington gave a preview of the speech during a recent phone interview. 
"If you hold on to the anger of it, if you hold on to the disappointment of what could have been or what you think should be, you'll never get above it. What real life was before this — it doesn't really matter. It's what you make of the life you've been given that matters," she said.
By her own estimation, Arrington has been given a lot. "Some of the things I valued before, I don't value now."
Things like stretch marks from pregnancy used to bother her. Now those minor imperfections fade in the face of scars that line parts of her body where she had multiple operations in MUSC Health's Level 1 Trauma Center.
"I'm very proud of my scars. I'll lift my shirt to show my stomach because I'm proud that l lived."
She also values the fact that she and her friend, Jacqueline Goff, survived the June 22 car crash with a drunk driver who hit their car head-on going the wrong way on Savannah Highway.
But the other woman died. Survivor's guilt sometimes gnaws at Arrington.
"Why did I live? Why did that person die? As the survivor, you feel like you have to live two lives. You have to make it bigger and better. It's hard. Why did God spare me? Because I'm supposed to do great things? What if I don't? What if I'm just me — is that enough?" she said.
"I lost an election. And that's a big thing. Did the accident — was God saying, you shouldn't be in office and therefore, here's a car accident? Or was it to show perseverance, you could take a lot of hits and keep going?"
Arrington has kept going. She now works in cybersecurity at the Pentagon, and the wheelchair in which she left MUSC Health last year is long gone. "I'm actually back in high heels. That was a big thing."
MUSC will mark Trauma Survivors Day on May 8 at 11 a.m. According to the American Association for the Surgery of Trauma, injuries kill more than 150,000 people in this country each year. Causes range from car crashes to violence.
"This team of people — the surgeons, the nurses, the administrative staff – everybody worked tirelessly on us," Arrington said of the hours and days after the crash that almost killed her and her friend. "Surgeries back to back. They did that three straight days. I cannot say enough about the people there. You walk in three months later, six months later, a year later, they remember everything about you. And that is unique. They treat you with such respect."
MUSC Health, which has the only Level 1 trauma center in the Lowcountry, also has a Trauma Survivors Network. It connects former patients with experts, fellow survivors and resources to help them and their families navigate life after an injury whose effects can linger for years — or for life.
Surgeon Evert Eriksson said recovery from a severe injury only begins in the hospital. "Many of our patients have ongoing rehabilitation needs that must be met after discharge. Many suffer from temporary or permanent disability, and the trauma affects every aspect of their life. Many also suffer from emotional and psychological stressors after their injury."
But Arrington said they can try to find bright spots in their lives. "There's no guarantees, so do everything you can every day to live life to the fullest. There are days as a survivor where you just want to lie there and wallow in it, and you should. But be kind to yourself. Be kind to your family and your support network. Remember that you've been given an opportunity, and be grateful. No matter how you come out on the other side, at least you're coming out alive."
Suggest a Story
Have an idea for MUSC Catalyst News? Contact our editorial team and let us know.
About the Author