Trauma Center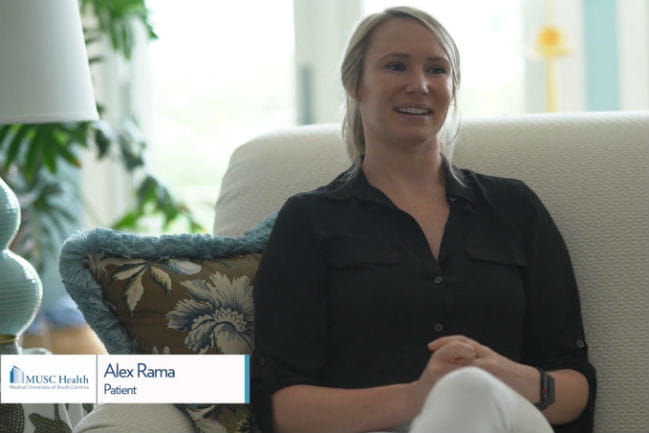 Getting Back to Normal
Alex Rama discusses the care she received from Dr. Stephen P. Kalhorn and the MUSC Health care team after a diving accident.
Patient Story
Alex Rama discusses the care she received from Dr. Stephen P. Kalhorn and the MUSC Health care team after a diving accident.
Life-threatening illness and injury (trauma) can happen in the blink of an eye. MUSC Health's nationally recognized trauma center offers access to dedicated experts and a broad range of treatments to offer the best opportunity to recover from the most complex problems.
We were the first program in South Carolina to achieve Level I Trauma Center designation, and we remain the only Level I program serving the Lowcountry. This designation means we provide the highest level of trauma care, any time, day or night.
If you are experiencing a life- or limb-threatening emergency, please call 911.
Why Choose Us?
Our commitment to helping people survive trauma goes beyond providing lifesaving care. Our experts use the latest treatments and advanced support services to return you to your everyday life, physically, mentally and spiritually.
Highlights of our program include:
Highly Skilled Doctors: Our doctors are board-certified, meaning they have passed rigorous exams demonstrating their expertise in surgical critical care. Some of our surgeons specialize in areas such as brain injuries or repairing complex structures deep within the body. This level of expertise helps you get the best possible care. 
Moving the Field Forward: Our research helps save lives and is making treatments more effective. We regularly publish articles sharing our findings on topics such as treating brain injuries and helping people achieve better results after surgery. And we actively participate in statewide efforts to improve trauma care in communities throughout South Carolina.
Coordination: For complex injuries, we offer access to nearly any specialist you could need. Our trauma team coordinates with specialists, including plastic surgeons and orthopedists, to provide the services you need, any time of the day or night.
Prevention: Through community outreach programs and injury prevention activities, we're working to reduce the number of people who experience trauma. Our goal is to help people live longer, healthier lives.
What is Trauma?
Trauma is a type of injury that can cause wounds, broken bones or organ damage. Some injuries, such as accidentally cutting yourself with a kitchen knife, heal with simple treatments. Other forms of trauma, including injuries from car accidents and gunshot wounds, can be life-threatening.
At MUSC Health, we provide the highest level of care for nearly any form of trauma, including:
Damage to major bone structures, such as a broken pelvis
Large cuts and open wounds, including stab wounds
Lung injuries, including a punctured lung
Spinal cord injury
Traumatic brain injury
Uncontrolled bleeding, including internal bleeding from a ruptured spleen
Exceptional Care for Life-Threatening Injuries
After a traumatic injury, you may travel to MUSC Health by ambulance. The ambulance team will contact our trauma experts before your arrival so we can start caring for you the moment you arrive. Our trauma team remains by your side through all stages of treatment and recovery.
Here's what to expect:
Assessment: We evaluate how serious the injury is and what parts of the body it is affecting.
Imaging Tests: We use imaging tests, such as a computed tomography (CT) scan, to produce high-resolution images of organs and tissue. These tests help us determine which treatments best meet your needs.
Surgery: When a problem requires surgical treatment, we use advanced techniques, including special technology for repairing broken ribs. We coordinate with other highly trained MUSC Health surgeons, including hand experts and neurosurgeons, to deliver specialized treatments when necessary.
Critical Care: After surgery, we provide minute-by-minute care and monitoring. Our specialized therapies can support basic functioning, such as breathing, so that you can rest and heal.
Prevention & Support
Trauma can bring unexpected changes that can affect your life long after an injury heals. Our whole-person approach includes services, such as a support group, to help you put your life back together. We also work alongside community partners to lower people's risk for future trauma.
Our prevention and support activities include: 
Trauma Survivors Network: We connect you with survivors who have been in your shoes. These peers can share helpful insights about moving forward with your life. We also connect you with community resources, including transportation and meal services, to help make life a little easier. Find out more about our Trauma Survivors Network.
Prevention efforts: We are active community partners when it comes to protecting the people we serve. For example, our experts speak with teens about the dangers of distracted driving. We also work with local emergency medical services to help older adults avoid falls that could lead to serious injuries.