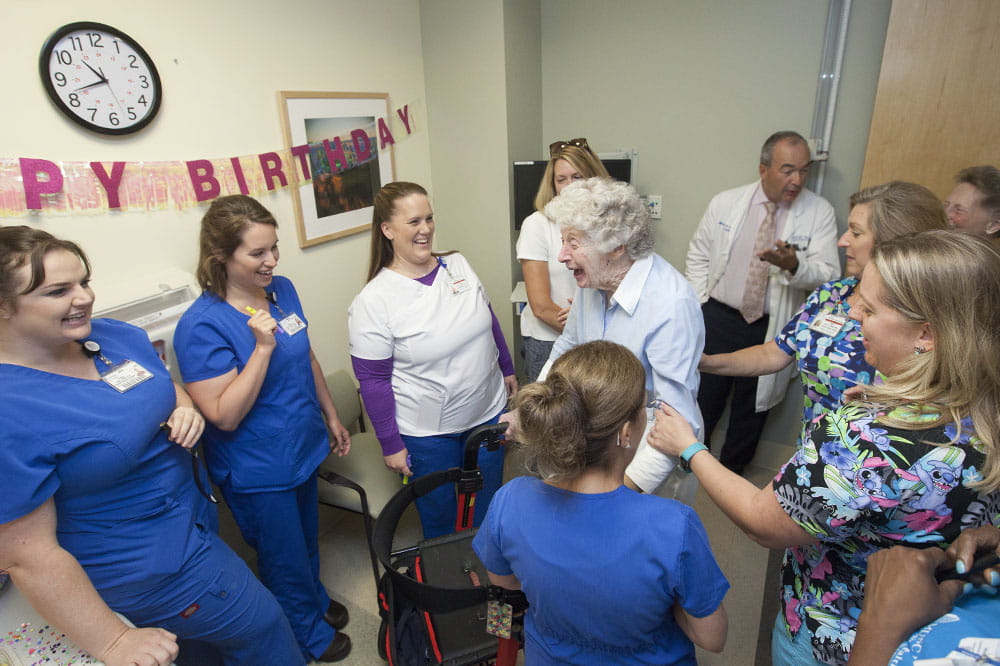 The nurses are nervous. They aren't sure how Marguerite Gussenhoven will react when she realizes they've brought in balloons, cupcakes and presents to celebrate a milestone that she once thought she'd never see: her 100th birthday.
Gussenhoven is beloved in the Heart and Vascular Center at MUSC Health, known for her dry wit and sharp mind. She's also the longest-living participant in a clinical trial that showed cardiac resynchronization therapy, or CRT, can help people in the early stages of heart failure.
On this day, before one of her twice-a-month checkups, she walks down the hall with her daughter, Peggy Reeves. The nurses, along with cardiologist Michael Gold, are waiting.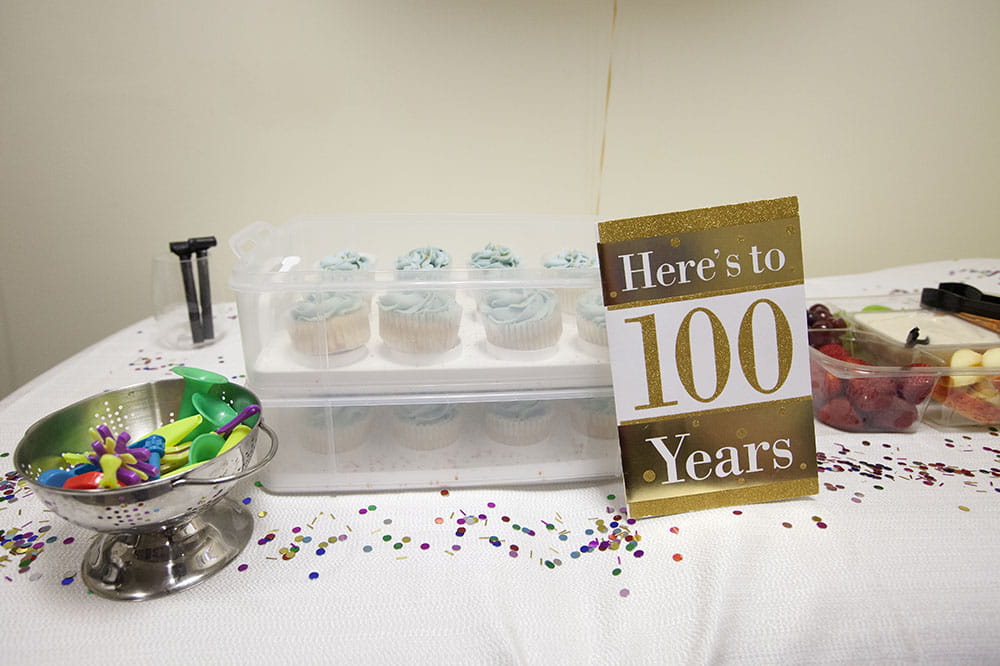 "Ready? Here we go. Happy birthday!" they cheer as the women enter the room.
"Oh my Lord," Gussenhoven responds with a huge smile on her face.
Nurse Deana Baron, who organized the party, gives her a hug. "We love you. You know that, right?"
Gussenhoven answers: "Gosh, I feel wonderful! I really don't mind being 100 at all with y'all."
She's come a long way from the day 13 years ago when her daughter was afraid she was about to lose her due to heart failure. "She was dying," Reeves said. "And I sat in my kitchen one morning and I thought – I've got to do something."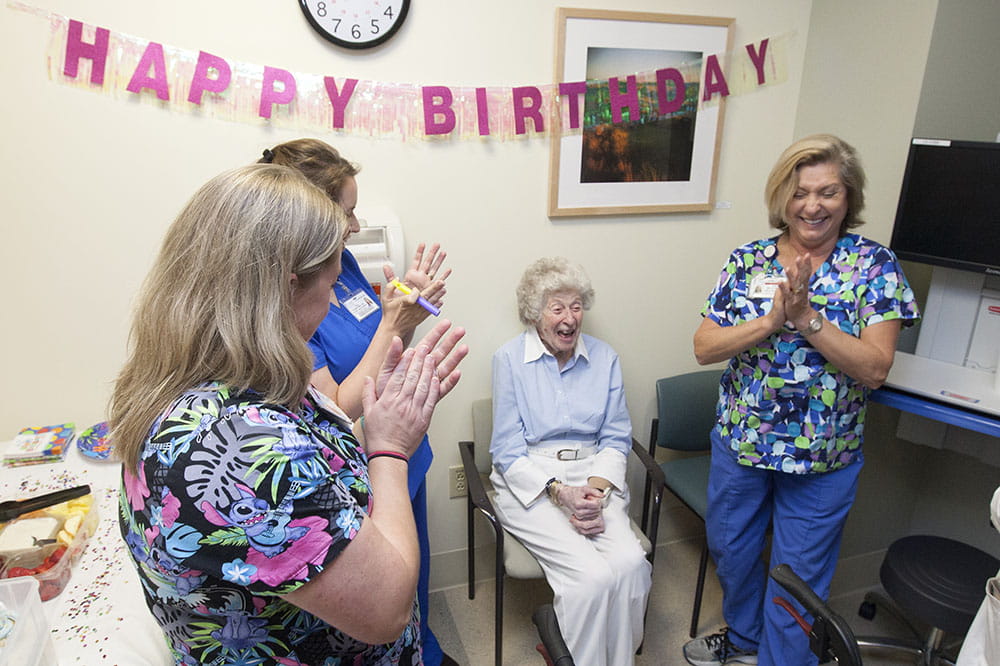 She called a friend at the Medical University of South Carolina, who connected her mother with the heart team. Gold, a professor in the College of Medicine who specializes in treating people who have heart failure, said she was a good candidate for the MADIT CRT study.
"It was a trial for pacing both sides of the heart, which we were already doing in patients with severe heart failure. In people with mild heart failure, we were trying to see if we could prevent progression," Gold said.
"It was a very important study that got published in the New England Journal of Medicine and changed how we approach patients with mild heart failure to prevent them from getting worse. She's as good an example as you'll see. Her heart completely normalized with this. She's been able to live to be 100 and has not been hospitalized for heart failure since then."
After getting the CRT device, Gussenhoven was able to go back to playing golf, walking her dog and enjoying life, her daughter says. "Her heart was like 30% and now it's going like 60%."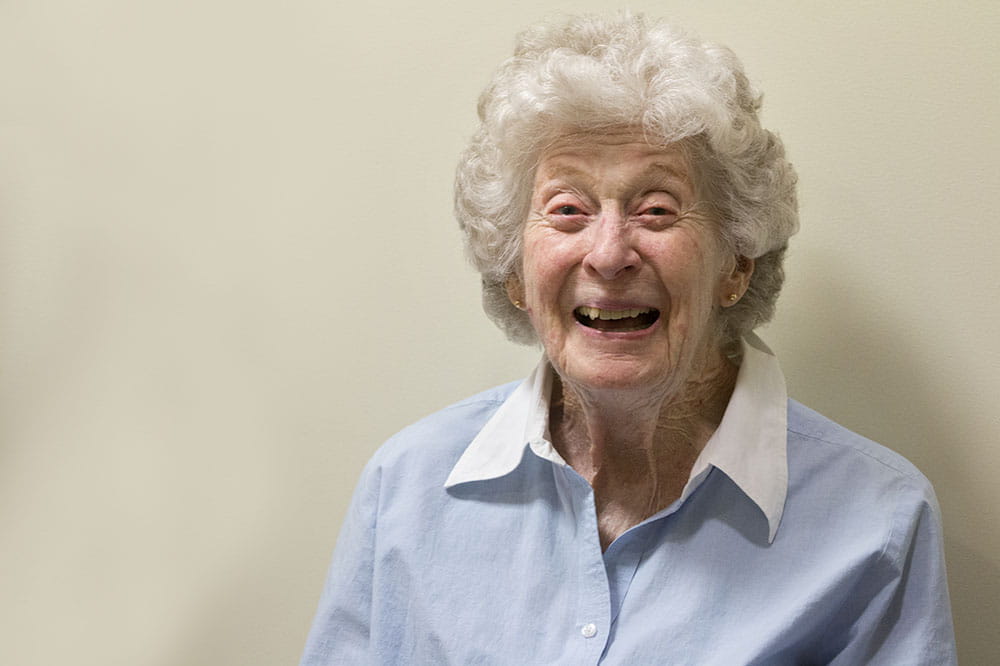 Gold says it's a reminder of the importance of clinical trials. "Being in clinical trials is not necessarily being a guinea pig. Sometimes it can help people. If they can get you to be 100, that's really good."
Gussenhoven, who has 14 great-grandchildren, says being in the trial did wonders for her. "I've had a good life ever since I started getting well."
She has some advice for people who want to enjoy long lives. "The main thing is to keep going. Don't lie in that bed even though you want to."
The nurses and Gold sing happy birthday to Gussenhoven and she opens her gifts, enjoying the scented oil and lotion they've given her.
"This is a wonderful day," she says, then adds with her trademark wit: "I'm going to expect great things if I ever come back."
Suggest a Story
Have an idea for MUSC Catalyst News? Contact our editorial team and let us know.