Laryngology/Voice & Swallowing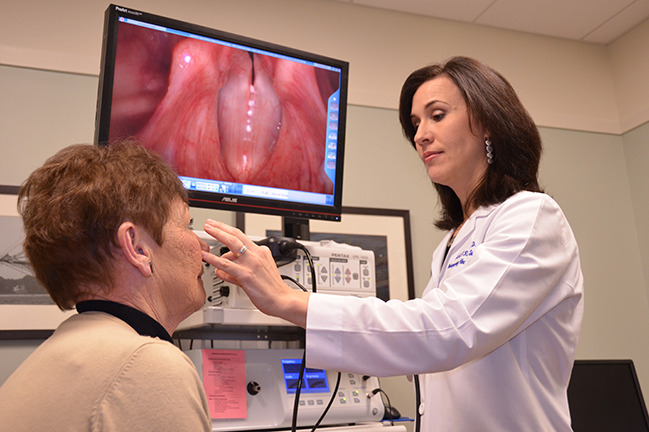 The MUSC Health Evelyn Trammell Institute for Voice and Swallowing (ETIVS) is the first in South Carolina to provide a multidisciplinary center for the evaluation, treatment, and a clinical research of laryngeal, voice, and swallowing disorders for adults and children. Because voice, swallowing, and respiratory disorders often occur together, the Institute offers maximized care by collaborating with a range of specialists.
What makes us different is we integrate the evaluation and treatment of voice and swallowing under one roof. Given the inter-relationship of voice and swallowing, it is critical to attend to both functions.
As a division of the Department of Otolaryngology-Head & Neck Surgery, the Institute brings together a wealth of resources and expertise. MUSC Health physicians and staff provide state-of-the-art care for adults and children presenting a wide variety of disorders.
In addition to providing patient care, the Institute is committed to building public awareness of voice and swallowing disorders through teaching and education. Clinical research is another vital component of the Institute. Research efforts cover a broad scope, including the study of laryngeal dynamics during coordinated respiration and swallowing, and the effects of esophageal dysfunction on the larynx.
Patients can be referred to any member of the Institute for comprehensive evaluation and care. Or, referring physicians may prefer to partner in the care of patients. Each patient receives a complete evaluation and individualized treatment program from each of the specialists consulted. The program includes collaborative management between the otolaryngologist and speech-language pathologist.
The ETIVS Mission
The establishment of the MUSC Health Evelyn Trammell Institute for Voice and Swallowing was made possible through the generous support of the Mark and Evelyn Trammell Foundation of Atlanta. Evelyn Trammell, a successful entrepreneur, was committed to furthering quality health care research, particularly related to pulmonary disease.
We Are Committed To:
Providing the highest quality, most seamless patient care.
Professional training of highly competent clinicians through academic preparation, mentoring, and continuing education of speech-language pathologists, medical students, residents, and junior faculty.
Clinical research and dissemination of findings at a national and international level.
Our Services
Services Provided Through ETIVS
Speech Language Pathology Locations 
Physician needing assistance?
Please call MEDULINE, MUSC's dedicated consultation telephone service, at 843-792-2200 or toll-free at 800-922-5250. We will provide you direct, convenient access to the physicians and services of MUSC Medical Center.
Services Provided Through ETIVS
Alaryngeal speech/tracheoesophageal puncture protheses (TEP)
Articulation disorders
Assistive technology communication evaluation
Auditory processing disorders
Autism
Craniofacial disorders
Development disorders
Dysphagia/feeding & swallowing disorders
Flexible endoscopic evaluation of swallowing
Genetic disorders
Head & neck cancer
Hearing impairment
Language & cognitive disorders
Modified barium swallow studies
Nasoendoscopic evaluation
Neurological disorders
Spinal cord injuries
Tracheostomy tube dependency
Voice, fluency, and resonance disorders
The highly skilled Speech Language Pathologists collaborate with the world renowned physicians in the following interdisciplinary clinics for patients:
Airway & Aspiration Clinic
ALS Clinic
Autism Clinic
Brain Tumor Clinic
Cochlear Implant Clinic
Craniofacial Clinic
Down Syndrome Clinic
Epilepsy Clinic
Head & Neck Tumor Clinic
Velopharyngeal Insufficiency Clinic
History of ETIVS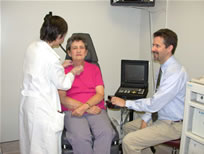 Dr. Halstead examining a patient during their followup clinic visit.
The laryngology program at MUSC was formally established in 1987 with the creation of the MUSC Voice Center by Lucinda Halstead, M.D. The Voice Center was the first in South Carolina to have laryngeal videostroboscopy and to provide comprehensive care of the vocal professional by having a multidisciplinary team of professionals – laryngologist, speech-language pathologist, and singing voice teacher.
In 1988, the multidisciplinary course, Spoleto Symposium: Medicine in the Vocal Arts was first offered and has been an annual educational offering since that time. Pediatric airway and voice management was also established at this time and the majority of pediatric airway management for MUSC was assumed by the laryngology program. In 1990, the Voice Center became the official site for treatment of the performers of the Spoleto Festival USA, which is a 17-day international festival of the performing and visual arts. Awareness of voice and airway problems in children performers continued with invited lectures at the Performing Arts Medicine Association Meetings in 1999 and 2004.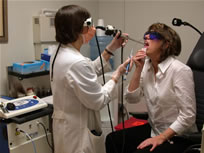 Dr. Halstead performing a Pulse Dye Laser procedure.
In 1995, the Voice Center became the first in South Carolina to provide comprehensive neurological evaluation of the larynx with the addition of a neurologist to the voice team, laryngeal EMG, and Botox injections.
In June 2000, the Voice Center underwent a major expansion in its scope and became the MUSC Evelyn Trammell Institute for Voice and Swallowing with the addition of Dr. Bonnie Martin-Harris to the faculty, who brought expertise in both voice therapy and swallowing to the University. Our ability to offer comprehensive speaking voice therapy and swallowing evaluation and therapy expanded tremendously. Multi-disciplinary treatment still continues, with singing voice evaluation and therapy performed by Deanna McBroom, MM at the College of Charleston. Her colleagues also have helped us with rehabilitation of specific problems with wind instrumentalists.