LASIK Surgery
LASIK surgery is a common vision correction procedure that reshapes the cornea providing lasting relief for common vision problems. After LASIK, most people no longer need to wear glasses. The procedure uses beams of light instead of hand-held surgical instruments which offers more precise care with fewer complications. Our team delivers safe, effective care that you can count on.
LASIK Surgery: Why Choose Storm Eye Institute?
MUSC Health Storm Eye Institute is home to South Carolina's first laser vision correction center. At the Magill Laser Center, you receive care from some of the foremost laser eye surgery experts in the country. We combine our expertise with today's most innovative treatments to correct your vision.
Highlights of our program include:
Expertise: All of our LASIK surgeons are fellowship-trained, having completed several years of additional, specialized training in eye surgery. This expertise translates to a superior level of care.
Pioneering Efforts: We were the first program in South Carolina performing LASIK vision correction surgery. Our experience performing thousands of procedures helps you achieve excellent results.
Cutting Edge Technology: As laser eye surgery technology advances, we remain at the leading edge. Our eye surgeons play an active role in testing new technologies. These efforts give you access to new treatments before they are widely available.
Affordable LASIK
Up to $750 off LASIK: Ask about our available discounts and specials.
Free LASIK Consultation: Our comprehensive evaluation includes a wide range of measurements and diagnostic imaging to determine if you are a good candidate for LASIK.
Financing Available: Patients may be eligible for 12-month Interest FREE Financing through CareCredit
LASIK & PRK Vision Correction Surgery
LASIK surgery reshapes the cornea (transparent front layer of the eye), providing lasting relief for common vision problems such as nearsightedness. After LASIK, most people no longer need to wear glasses for nearsightedness. You may still need reading glasses.
During photorefractive keratectomy (PRK), we remove the cornea's thin outer layer before reshaping it. Your eye grows a new outer layer as you heal. PRK may be right for you if you have thin corneas and cannot have LASIK.
Cutting Edge Technology: Wavelight Refractive Suite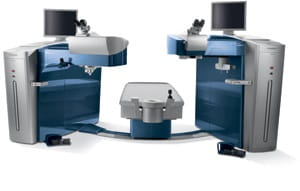 Our team was one of the first in the U.S. to perform LASIK surgery using the Alcon Wavelight® Refractive Suite. This innovative technology helps us deliver the fastest and most accurate bladeless vision correction procedure available. The Wavelight® Refractive Suite features the FS200 femtosecond laser to create the corneal flap, the EX500 Eximer laser to change the curvature of the cornea, and a swiveling bed for maximum patient comfort.