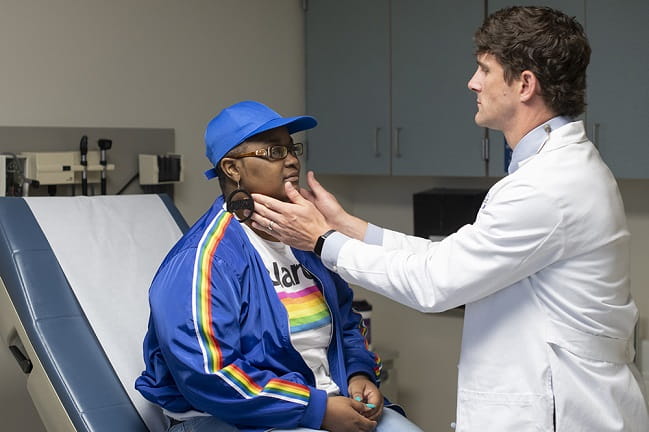 Sarcoidosis is an inflammatory disease without a known cause that affects the lungs in 90 percent of patients. The disease will resolve in the majority of patients, but some patients may develop chronic sarcoidosis that can lead to scarring in the lungs and difficulty breathing. Sarcoidosis can also affect other organs in the body such as the eyes, skin, brain, and heart.
At the Multidisciplinary Sarcoidosis Clinic at MUSC, we see complex cases of sarcoidosis from all over the United States and we have experience and skill in diagnosing and treating the most challenging forms of the disease. Sarcoidosis patient care will often need to be coordinated between multiple specialties, and we actively collaborate with other specialists including dermatology, rheumatology, ophthalmology (Lynn Janet Poole Perry, M.D., Ph.D.) cardiology (Brian Houston, M.D.) and neurology (Mini Singh, M.D.). Using the latest diagnostic testing and advanced treatments, our mission is to provide patient-focused care that relieves a patient's symptoms and prevents irreversible organ damage from chronic inflammation due to sarcoidosis. We offer all treatment options for sarcoidosis at MUSC, including lung transplant. There is no cure for sarcoidosis, but at MUSC we are working towards that goal every day and we are actively engaged in research to learn new information that will allow us to better serve our patients.

As an uncommon disease, we feel that informed and engaged patients are important to having successful outcomes in sarcoidosis. The following links maybe helpful to learn more about sarcoidosis.
The Susan Pearlstine Sarcoidosis Center of Excellence
Susan Pearlstine established the Susan Pearlstine Sarcoidosis Center of Excellence through a generous multi-million dollar gift. While seeking treatment, she noted the immediate need for comprehensive services for herself and others. In the United States, almost 50 percent of patients require 4 or more physician visits before a diagnosis of Sarcoidosis is made. With mortality rates from sarcoidosis increasing and with South Carolina having the 4th highest sarcoidosis-related mortality in the United States, the critical need for comprehensive service provision was clear.
The Susan Pearlstine Sarcoidosis Center was established at MUSC to build upon one of the largest sarcoidosis care providers in the country, with over 2,200 outpatient visits in the year 2014 alone, and with almost 50 percent of the patients seen at MUSC presenting with advanced-stage lung disease. The Center is the result of a vision to establish a nationally leading program to develop new treatments and therapies, and to build a clinical infrastructure that provides sarcoidosis patients with well-coordinated, patient-friendly access to the latest treatments available.
Related Topics: Give to the Susan Pearlstine Sarcoidosis Center of Excellence
More Care Team Members
Maria Hoffman | Program Manager, Susan Pearlstine Sarcoidosis Center of Excellence
Katie Benfield | ILD Nurse Coordinator