About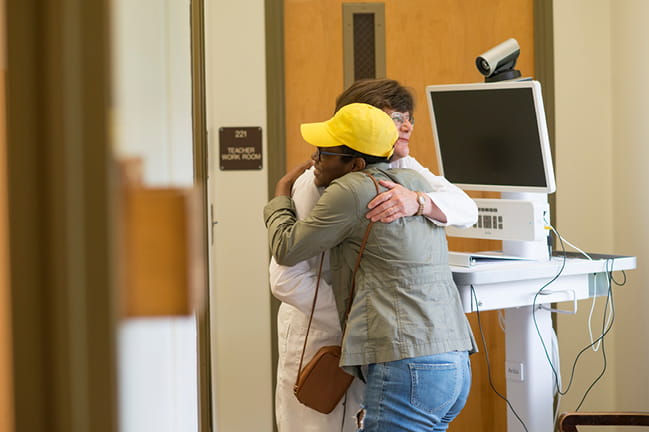 The Center for Telehealth brings together resources to help provide a greater range of services to patients and health care providers. It directly supports and coordinates the operations of telehealth programs and services, facilitates the growth and development of services that align with the MUSC Strategic Plan, and addresses the needs of the South Carolina community. Faculty and staff members in the Center can can also provide technical, clinical and educational expertise to support new partnerships and services.
History
Core Values
Center of Excellence
Leadership
Frequently Asked Questions (FAQs)
Where is the Center for Telehealth? 
The Center is located on the second floor of the main hospital. Telehealth staff are also located in the Telehealth Annex building on Rutledge Avenue. 
Who works in the Center?
Several employees work in the telehealth department. In addition to full-time telehealth staff, several telehealth providers and coordinators work in various clinical areas on and off-campus.
How is the Center for Telehealth funded?   
The Center is primarily funded by the S.C. State Legislature. Some services and projects are grant funded, as well as funded by private contributions. The Medical University of South Carolina, an agency of the State of South Carolina, serves as the fiscal agent and headquarters of the South Carolina Telehealth Alliance where funding is shared for telehealth service development throughout the state. Programs and services are also sustained through traditional billing, contracting, and direct-to-consumer out of pocket costs. 
What does the Center for Telehealth do? 
The Center supports the development and expansion of telehealth services by:
Overseeing the administration and operations of service development, service optimization and on-going technological maintenance and management 
Leading and participating in research to further the advancement of telehealth
Advocating for telehealth policy enhancement and additional telehealth insurance coverage.
Who leads the Center for Telehealth?
The Center is led by James McElligott, M.D. as Executive Telehealth Medical Director, Kathryn Cristaldi, MD as Associate Executive Telehealth Medical Director and Shawn Valenta, MHA as Administrator of Telehealth. The Center is also a federally designated National Telehealth Center of Excellence, for advancements in research, led by Dee Ford, MD as Project Director and Kathryn Cristaldi, MD as Co-Project Director.  
How does a practitioner and/or site begin working with the Center to implement telehealth?
A practitioner and/or site interested in using telehealth should complete the program request form. If the services are for MUSC patients, the request will be given to a service development coordinator to explore and determine next steps. If the services are for non-MUSC patients, an SCTA coordinator will work with the requester to determine next steps.