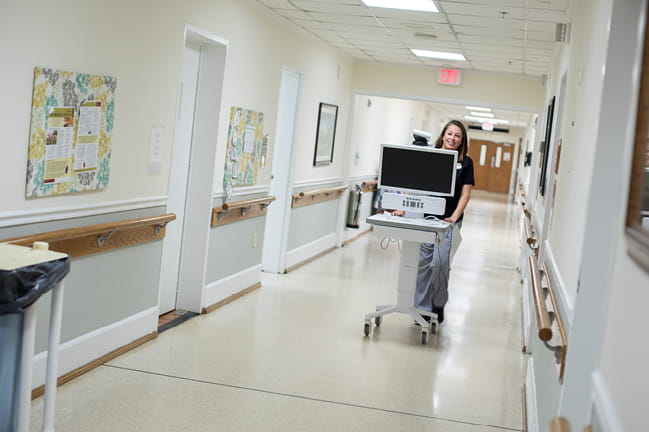 Programs of the MUSC Health Center for Telehealth continue to bring advanced, quality care to the far reaches of the state. Working collaboratively with providers across South Carolina, patients can get the care they need at the right time, in the right place. That might be a stroke patient presenting at a community hospital ER at three in the morning, or an expectant mother in a rural community with a difficult pregnancy, or a school kid with an allergy - who if treated early - will never miss a day of class.
The MUSC Health Center for Telehealth partners with health care systems and providers across South Carolina to offer a greater ranger of services to patients, often delivered in the comfort of their home communities.
Our telehealth program partners are critical to advance the timeliness and quality of health care services provided. In addition, they are important partners in innovation as we advance health care services throughout our state. The Center's team of professionals can provide technical, clinical, and educational expertise to support new partnerships and services. Together, we can improve access throughout South Carolina.
Hospitals
The Center for Telehealth offers an expanding array of hospital-based services. We are adding Neonatology and Sickle Cell services to the list, with many more to come. Learn more about our hospital-based services.
Clinical Settings
The Center for Telehealth offers specialty services being delivered into private practices and clinics in the MUSC service area. Named OT for outpatient telehealth, specialties include maternal fetal medicine, nutrition and psychiatry, Learn about clinical settings and telehealth.
Schools
The School-Based Telehealth program brings advanced health care to children in the school setting. Long travel distances, missed school days, and missed work days for parents are barriers to accessing healthcare for many rural or medically under served children. Learn more about school-based telehealth.
Skilled Nursing Facilities
Because skilled nursing facilities care for some of the most frail and complex patients, telehealth is a solution to extend care to these patients in the comfort of their settings. It reduced unnecessary transportation to emergency departments for cases that are non-emergent. Learn more about our skilled nursing facilities.
Correctional Facilities
While the prisons and jail do have medical care, it's not always offered 24/7. MUSC doctors are working around the clock and telehealth is connecting providers and inmates using technology, including video. Inmates only visit MUSC if an in-person visit is warranted. Learn more about correctional facilities and telehealth.
Specialty Clinics
MUSC and its affiliate hospitals are partnering together to deliver specialty services to more South Carolina communities, using telehealth technology. The Regional Medical Center (TRMC) in Orangeburg and Tidelands Health in Georgetown are currently treating patients. Learn more about our specialty clinics.