History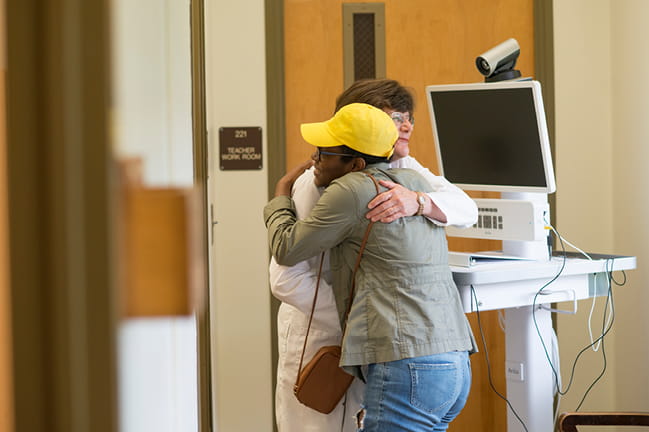 MUSC has a long history of successful telehealth services to improve access to quality health care for medically under served areas of South Carolina. Early programs like maternal fetal telemedicine (Dr. Donna Johnson), telestroke (Dr. Robert Adams and Ellen Debenham), and telepsychiatry (Dr. Hugh Myrick) set foundational relationships and successes that fueled future growth. In addition, other MUSC telehealth leaders in technology (Michael Haschker and Lori Upshur), education (Ragan DuBose-Morris, Ph.D.), and clinical services (Dr. Jimmy McElligott, Dr. David McSwain, Dr. Dee Ford, Dr. Samir Fakhry and Laura Langston) began to contribute to a concerted movement to coordinate the various telehealth efforts throughout MUSC. In 2013, the state of South Carolina took a significant step towards the investment of telehealth by passing legislation that provided MUSC with state funding to advance telehealth throughout the state. With the goal to construct an open-access statewide telehealth network that will have the capabilities of connecting all providers, MUSC created the Center for Telehealth.
The Center for Telehealth was founded under the executive leadership of Dr. Jimmy McElligott and was established to directly support and coordinate the strategic initiatives and operations of MUSC telehealth programs, optimize resource utilization, strengthen both clinical and financial performance, and facilitate the growth and development of MUSC telehealth programs that align with the MUSC strategic plan and address the needs of South Carolina's communities.
Dr. McElligott, an MUSC pediatrician who began using telehealth a couple years earlier in schools to improve access to medically under served children, was charged with leading the strategic alignment of telehealth services at MUSC and throughout the state. His first hire was Shawn Valenta, a leader in MUSC's respiratory care department, who serves as the current administrator for the Center.
In 2014, Dr. McElligott and Valenta worked with other key health care providers to create the South Carolina Telehealth Alliance (SCTA), a collaboration of many organizations that joined forces to expand telehealth services across the state. The SCTA provides guidance, assists with strategic development, and advises on technology and standards to develop South Carolina's open-access telehealth network.
As the statewide headquarters of the SCTA, Dr. McElligott and Valenta manage a staff of over 50 clinical and non-clinical operational, administrative and support staff that are focused on applying telehealth for efficient, effective care, and MUSC is recognized as a national leader in telehealth with a robust portfolio of services. The telestroke program is viewed as one of the largest and most successful networks in the country, and the school-based telehealth program serves as a national model for delivering care into schools.
In 2017, MUSC was designated as a National Telehealth Center of Excellence (COE) by the Health Resources and Services Administration (HRSA), an agency of the U.S. Department of Health and Human Services. In partnership with the Center for Telehealth leadership, the COE Program Director, Dr. Dee Ford, and Associate Program Director, Dr. Kathryn Cristaldi, are applying rigorous scientific evaluation to study and provide recommendations on
The impact of telehealth on federal and local health care spending,
Provider and patient engagement in telehealth, and
Open access network evaluation and best practice dissemination.