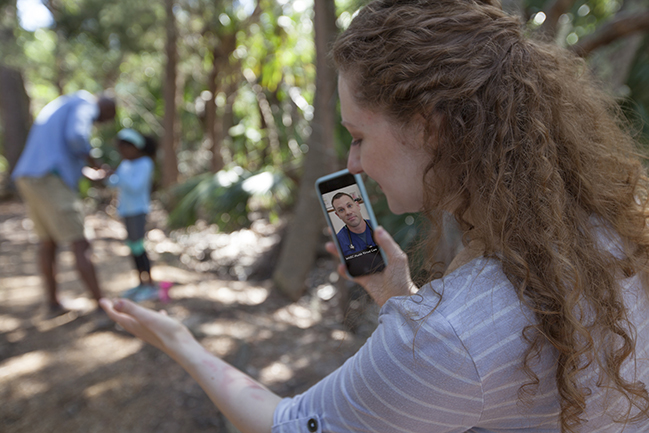 The prevalence of direct-to-patient devices and applications (apps) offer patients another way to receive care right from their smart phone, tablet, or through the use of remote patient monitoring.
E-Visits & Video Visits
Due to their ease and convenience, e-visit and video visit telehealth is one of the fastest growing types of services. Using the MyChart app, patients can log into a secure portal and communicate with their provider, request a prescription re-fill, view lab and test results, as well as request a face-to-face visit using realtime video capabilities. If you have not downloaded the MyChart app, do it today for care when you need it, and from where you need it.
Service Spotlight
E-visits (texting) and video visits are also being used to treat patients discharged from inpatient care due to traumatic brain injuries. The Telehealth Resilience and Recovery Program (TRRP) was established to address the unmet mental health needs of adults and children after these injuries. More than 20 percent of traumatic injury patients develop mental health problems such as post traumatic stress disorder or depression after acute care hospital admissions. Few hospitals offer adequate mental health screening and follow up after discharge. TRRP brings education and best-practice treatment directly to patients and families by engaging them at the time of their hospitalization and delivering follow-up screening and telehealth treatment to those who need it. If the patient agrees, they will receive a follow-up phone screen for PTSD and depression one month after they've been discharged. Patients who screen positive are offered formal treatment. Patients use iPads, computers, smartphones, or other electronic devices to connect them with PTSD specialists while recovering in their home. (The program supplies iPads to patients who need them.)
Remote Patient Monitoring
Remote patient monitoring devices and apps are providing a way for patients and providers to manage chronic conditions using mobile devices. Some of what used to require an inpatient hospital stay, can now be monitored from home or wherever the patient is. Example: The heart valve app is given to patients who've had heart valve replacement surgery. Each day the patient takes their vital signs, including their weight, blood pressure, heart rate, and oxygen saturation. They also complete a symptom evaluation questionnaire. All of this data is transmitted right into their electronic medical record (EMR). This allows their provider to monitor their condition from afar. The provider would receive an alert if the patient is out of what is considered to be a normal range. If necessary, the patient would be instructed to return to the hospital for care.