Training & Education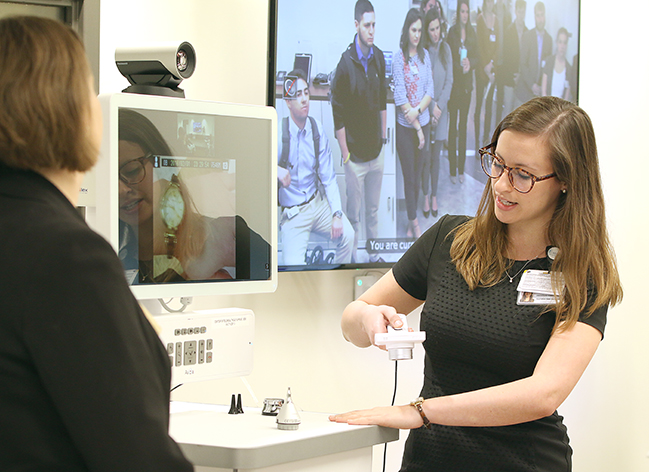 The Center for Telehealth provides several opportunities for education and training of new services as well as for ongoing service optimization.
Hospital Education and Training:
Neuroscience education for partner hospitals who receive stroke, neurology, EEG and other neurology related teleconsultations
Institutional Mentorship for partner hospitals who want to begin or optimize the use of teleconsultations
ICU Innovations for partner hospitals treating ICU and critical care patients
Infectious Disease & Antimicrobial Stewardship
Onsite equipment training and education
Learn more in our hospital services portfolio.
Provider Training
Student Education and Training 
Housed in the heart of the MUSC clinical enterprise, the Center for Telehealth includes an innovative Learning Commons for demonstration, training, and troubleshooting activities. The Learning Commons includes space and equipment that is configured to support telehealth activities as they are currently deployed across the state. Here, learners of all levels and providers who are charged with delivering clinical telehealth services are able to receive personalized training and demonstrate their competencies with telehealth processes. Are you a student interested in an internship or shadowing opportunity with the Center for Telehealth?

Are you a student interested in an internship or shadowing opportunity with the Center for Telehealth? Please complete the Internship Intake Form. Follow-up on your request should be expected within one business week.
Tours

Throughout a normal day, visitors will see demonstrations, tours, trainings, and a variety of development activities occurring within the space. Housed within the multi-room space are areas for providers, patients, and technical experts to explore equipment, visualize practice protocols, and apply their knowledge. The Learning Commons is available to host groups and individuals through scheduled tours and trainings. Please share your needs by using the tour request form. We look forward to hosting you soon.
Services Supported in the Center for Telehealth Learning Commons
Provider training for privileging, credentialing, and best-practice integration.
Students training across all 6 MUSC Colleges.
Resident training for programs that are supporting clinical telehealth services.
Patient education on mobile devices and home health procedures.
Partner education related to telehealth program development.
Researcher overviews of telehealth processes and capabilities.
Legislative and funding tours to demonstrate telehealth in action.
Perspective trainee tours to demonstrate opportunities.