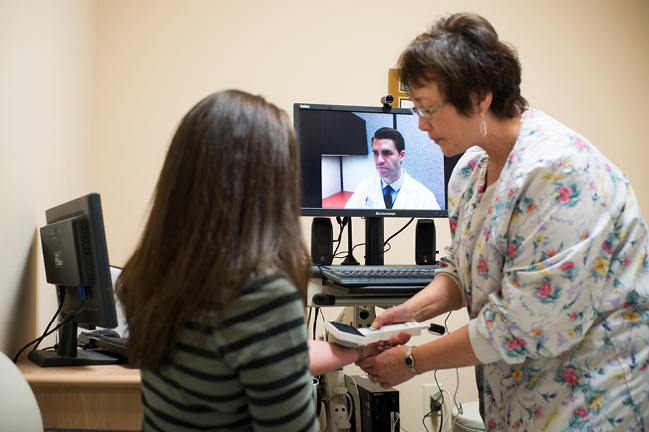 The Center for Telehealth offers a number of specialty and sub-specialty services being delivered into several private practices and clinics in the MUSC service area. Named VTC for Virtual Teleconsultations, specialties include maternal fetal medicine, adult neurology, nutrition, psychiatry, general surgery, non-acute stroke and pediatric dermatology, endocrinology, heart health, nutrition, orthopaedics, psychiatry, sickle cell, surgery and urology.
The VTC program brings specialty consultations from MUSC Health physicians to patients throughout the state, reducing barriers to care and improving the health of South Carolina's residents.
South Carolina contains many communities where access to specialty care is limited. Patients needing a consult with a specialist or follow-up care after major surgery must often travel over 100 miles to receive it or wait months for an appointment. Additionally, many patients require child care during an appointment, have to take time off work, or have limited transportation resources–conditions that often result in missed appointments or a lack of proper follow-up care. The VTC program seeks to alleviate these strains on patients, by bringing that specialty care closer to home and getting the patient seen by a specialist faster. This program was started in 2011 by a group of researchers with support from the Duke Endowment and continues to expand and transform specialty health care services in South Carolina.
Specialty Service Spotlight
Delivering maternal fetal medicine consultations into private practices allow women with high risk pregnancies to benefit from specialty care, regardless of where they live.
Many areas of South Carolina are faced with a shortage of maternal fetal medicine providers and at the same time have high rates of conditions that complicate pregnancy, including diabetes, hypertension and obesity. Women with these conditions require or can benefit from care with a specially trained provider. A number of counties in South Carolina have too few or no obstetrical providers, requiring high risk patients to travel long distances to receive the specialty care and screening they need, which is often not feasible. The Maternal Fetal Telemedicine program enables a partnership between MUSC Health's maternal fetal specialists and local providers to co-manage the care and screening of patients with high risk pregnancies and support all the necessary steps to achieve the best possible outcome.
Maternal fetal telemedicine visits operate much like a regular in-person visit. The patient comes to their local doctor's office or hospital and meets with a local provider who conducts all tests and physical exams. The specialist is able to video conference in through telemedicine equipment and can see test results as well as ultrasound images. These specialists can provide resources like nutritional or genetic counseling, or advice on a health condition. The telemedicine provider can help identify any issues and track progress as well as help determine what the patient's needs will be for delivery.
By bringing high risk pregnancy care closer to the women who need it, this program helps improve access to care and better manage risks during pregnancy which help reduce the premature birth rate, the neonatal death rate and the maternal death rate.
How do VTC visits work?
Virtual Tele Consultations utilize simple technology systems like computers and video conferencing software to bring specialty care into facilities across the state. A list of current services is available below, and many new services are in development.
Adult Services: Maternal Fetal Medicine, Neurology, Nutrition, Psychiatry, General Surgery, Non-Acute Stroke
Pediatric Services: Dermatology, Endocrinology, Heart Health, Nutrition, Orthopaedics, Psychiatry, Sickle Cell, Surgery, Urology
Prior to a telehealth virtual consultation, the referring facility will send medical records and relevant test results to the MUSC Health physician. The visit will be at the patient's normal health care facility just like a normal appointment, but the patient and the provider will connect with the MUSC Health specialist over video equipment. The MUSC Health specialist may examine the patient with the assistance of the referring provider using technology like telemedicine-enabled stethoscopes and hand held exam cameras. MUSC Health physicians will make recommendations for treatment and prescriptions, and general care will be carried out in the patient's community facility.
What are the benefits of this program?
Telemedicine is cost-efficient and has been shown to increase patient satisfaction.
There are significantly shorter wait times for telemedicine consults than an in-person visit.
By keeping patients within their local health care facilities, they have fewer travel burdens and remain closer to their support systems.