Deep Brain Stimulation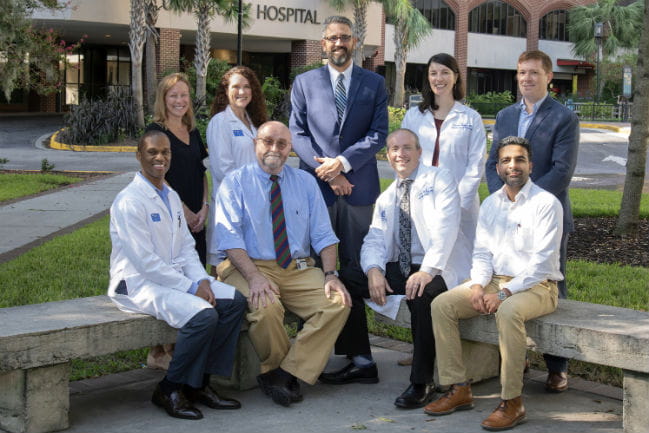 Movement disorder specialists and functional neurosurgeons at MUSC Health were the first in South Carolina to offer deep brain stimulation, or DBS, as a treatment for Parkinson's disease, dystonia, and essential tremor.
DBS uses a neurostimulator device that is similar to a pacemaker to deliver electrical signals to targeted areas of the brain. The electrical pulses reduce symptoms by blocking abnormal nerve signals.
Our doctors have years of experience performing this complex brain surgery, enabling us to provide you with a safe, effective procedure. At MUSC Health, you receive exceptional care from our dedicated team.
Deep Brain Stimulation at MUSC Health: Why Choose Us?
When you come to MUSC Health for deep brain stimulation, you benefit from:
Depth of experience: Our specialists have been performing DBS for more than a decade. Thanks to our outstanding reputation as DBS experts, doctors from across the Southeast region refer patients with complicated cases to us for care and treatment. We are the only DBS center in the region to offer clinical trials for novel DBS therapies including current steering and independent current control.
Comprehensive care: After DBS, you receive ongoing care in our Movement Disorders Program. Receiving follow-up care from the same specialists who performed your surgery can aid in your recovery.
Nurse coordinator: We want to make this process as easy on you as possible. Our nurse coordinator guides you through treatment and recovery, assists with scheduling appointments, and listens to your questions and concerns.
Teamwork: Our team of specialists works together to ensure you get the maximum benefits from this procedure. Team members include movement disorder neurologists, functional neurosurgeons, neuropsychologists, DBS nurse practitioners, physician assistants, nurses, and rehabilitation specialists.
Concierge services: Our guest services staff assists with travel and lodging arrangements or other needs.
Deep Brain Stimulation: What to Expect
DBS is highly effective at improving quality of life and function in selected patients with Parkinson's Disease, Essential tremor, and dystonia. The specific symptoms that are addressed are different for each patient. Your symptoms and goals will be addressed prior to surgery and your DBS therapy will be individualized to target the most troublesome symptoms and reach your treatment goals. 
Before the surgery:
DBS Evaluation: Patients will have an appointment with a Movement Disorder neurologist to confirm the diagnosis and discuss how DBS can improve current symptoms.
Neuropsychological Evaluation: The neuropsychologist assesses cognition and mood through a comprehensive evaluation.
Neurosurgical Evaluation: The functional neurosurgeon will assess surgical risk, and discuss the procedure in detail.
MRI: The patient will undergo a detail MRI of the brain to exclude any other causes for symptoms and help the surgical team plan the surgery.
Multidisciplinary DBS Conference: At these meetings, all team members gather to discuss each patient's case, decide on whether if DBS is recommended, create a surgical plan and review any special considerations. 
During this surgical procedure:
The day of the surgery most patients have a frame or halo placed, followed by a CT scan of the brain. A "frameless" approach is available as well.
Once in the operating room, most patients are sedated for the beginning and end of the surgery, but are awake for portions of the surgery. "Asleep DBS" under heavier sedation or general anesthesia is also available.
The movement disorder neurologist and neurophysiologist are present in the operating room to create a map of the structures being targeted and ensure proper placement. Patients are examined by the neurologist to ensure symptoms improve and there are no side effects, which allows for the ideal location for stimulation to be determined.
Length of the surgery depends on many factors, but primarily on the number of DBS electrodes placed. 
Patients typically stay in the hospital one night, and return the following week to have a "battery pack" or "pacemaker" placed under the collar bone. This is an outpatient procedure under general anesthesia.
After surgery:
Patients return to the movement disorder neurologist office to have the device turned on for the first time 3 to 4 weeks after the surgery.
At this point the transition toward DBS controlling symptoms instead of medications begins. Patients are followed closely for the next few months during this transition and eventually return to a normal follow up schedule. 
Contact Us
To learn more about deep brain stimulation at MUSC Health or to schedule an appointment, please contact Tracy Millman, DBS coordinator, at 843-792-8311 or fax 843-792-1751.
Refer a Patient
Submit a DBS expedited referral form or call our 24-hour referring physician service, MEDULINE, at 800-922-5250.
More Team Members
Travis H. Turner, Ph.D., Neuropsychologist
Jessica Barley, Ph.D., Neurophysiologist
Amy Delambo, NP, Neurology
Carly McDonald, PA, Neurosurgery
Tracy Millman, MSN, RN | DBS Coordinator