ACL Tear Doesn't Keep This Soccer Star Down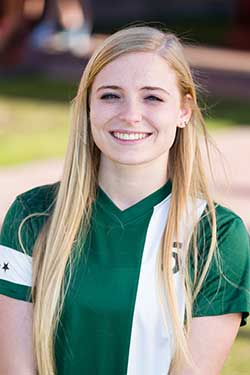 On October 8, 2016, when high school junior Abby Tickle took to the soccer field, she was hoping to impress college coaches. Instead, she walked away from the field with an ACL tear in her right knee.
The Monday following the game, Abby met with Dr. Harris S. Slone, the assistant professor of orthopaedic surgery and sports medicine at MUSC Health. He confirmed that she had in fact torn her ACL. Rather than schedule immediate surgery, Dr. Slone recommended that Abby focus on regaining her range of motion and strengthening the muscles surrounding her injured knee first.
"If we did the surgery right away, it would have taken longer to heal and the risk of stiffness would be higher," said Abby.
"For the vast majority of patients, waiting until resolution of swelling and range of motion returns is the preferred course of treatment to minimize the risk of post-op stiffness," shared Dr. Slone.
So, she first worked with MUSC Health's Sports Medicine Manager Michael J. Barr for one month, focusing on minimizing swelling, improving range of motion, and strength training.
"The first day I saw Abby in clinic she could barely bend or straighten her knee and could not lift her own leg against gravity," said Barr. "I explained to her the process and what it was going to take to be ready for surgery, as well as post-operative plan, expectation, and rehabilitation. With hard work and if she met her goals, she would be able to return to playing in about six months. I remember the look on her face (there may have been a few small tears) but I could tell she was going to be dedicated to her rehab and determined to get back out on the field."
On November 10, Abby was ready for surgery and underwent the procedure.
"Dr. Slone was very thorough with how he explained the surgery and what he was planning," said Abby. "He explained where the graft was coming from for the ACL reconstruction, and even took pictures during surgery that he showed me afterward. He made me feel very comfortable with the surgery."
Following a successful surgery, Abby returned home the same day and one week later, began her post-operative physical training with her physical therapist Michael Barr. She spent the next five months focusing on balancing and agility training, as well as muscle strengthening.
"It was a lot of squats again to help strengthen my leg. I also held weights in my hands on a yoga ball, jumped onto steps and did a bunch of balancing pad work," Abby said. "After 3 ½ months, I could juggle and pass a soccer ball, and start participating in soccer practice again. Although, my coach did warn my teammates that they couldn't tackle me just yet because of my knee."
By late spring, Abby was ready to return to the field for her first game since ACL surgery – Just in time for playoffs. And she scored a goal too.
Anecdotally, Abby also found inspiration for her high school thesis paper out of the injury. Her assistant coach shared with her that there was a correlation of ACL injury occurrence during menstruation. The connection inspired Abby to focus her senior thesis on the risk factors for males and females in regard to ACL injury, with an emphasis on how the shape of women's muscles, hips, and genetics can play a role.
And her mentor for her work?
None other than Dr. Slone, who has been helping her with the paper since her surgery.
Our MUSC Health team would like to give a big thank you to Abby for sharing her story. And, we wish her the best of luck as she completes her senior year (and that thesis paper.), and pursues her dream of joining the U.S. Navy after college. Thanks, Abby.