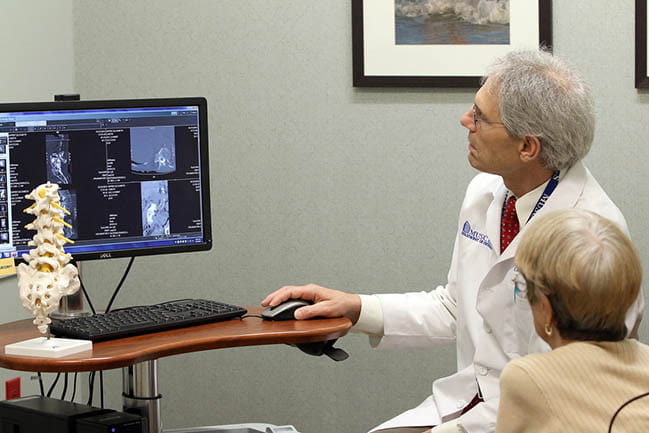 Back pain can change your life. It can limit your activity, cause you to miss work and restrict your mobility. But we can help – whether your pain is the result of an injury, a disease, or a cause yet to be identified.
The specialists at our MUSC Health Spine Center first perform a comprehensive evaluation, using the most advanced diagnostic equipment available. We then work with you to develop a treatment plan that eliminates or reduces your pain so you can spend less time at the back doctor and return to an active lifestyle.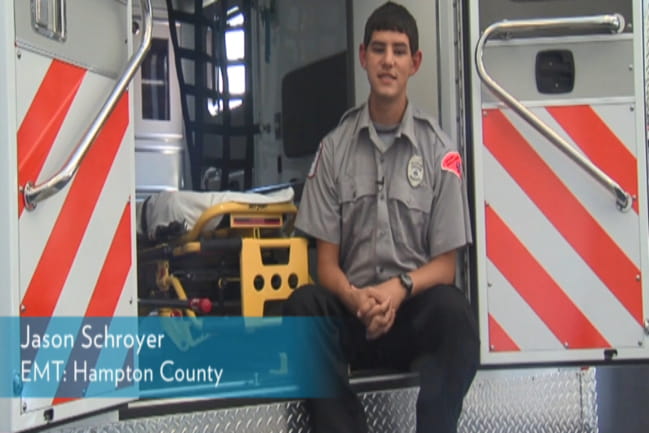 MUSC Health Spine Center
Changing Lives for South Carolinians
Patient Story
Changing Lives for South Carolinians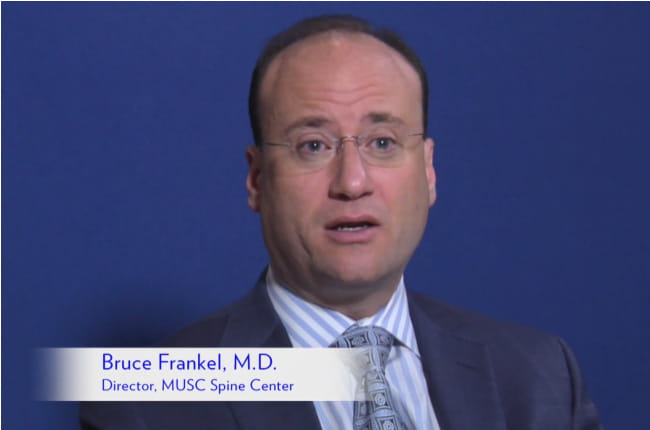 First in South Carolina
MUSC Health: First in South Carolina to offer new endoscopic surgery – watch the video.
Patient Story
MUSC Health: First in South Carolina to offer new endoscopic surgery – watch the video.
Spine Care at MUSC Health: Why Choose Us?
Our team of spine experts treats all types of back-related issues, from the routine to the most complex. We listen to your back pain history and tailor a personalized treatment plan to help relieve the condition bothering you.
At the MUSC Health Spine Center, we focus on the patient and recommend the best treatment option for you. We offer:
A highly skilled team of experts: Our center's team brings together a range of disciplines and spine expertise. All of our doctors have passed rigorous, optional tests (board certification) in their specialty. Many have also completed additional years of sub-specialty training (fellowships). Medical centers from across the tri-state area and beyond trust us with their most complicated surgical cases.
Advanced options: As an academic medical center, we stay current with the latest treatments. We offer the most advanced surgical and non-surgical treatments available to help relieve your symptoms and return you to an active life. Our procedures include a number of minimally invasive options.
Tailored treatment: We can often relieve your pain with a variety of non-surgical spine treatments. If you need spine surgery, you can feel confident with the expertise of our neurosurgeons and orthopaedic surgeons. We perform minimally invasive surgery (MIS) whenever appropriate, but are also highly skilled at open surgery.
Top imaging: We offer advanced imaging for both diagnostic and interventional spine services. MUSC Health Radiology uses the latest technology and equipment, with expert interpretation from nationally and internationally recognized radiologists. Each of our radiologists has subspecialty training and focuses on a specific area, with spine experts in musculoskeletal, neuroradiology, interventional, neuro-endovascular, ultrasound, and vascular radiology.
Leaders and innovators in the field: Through research and clinical trials, we have invented numerous techniques and devices to make complicated surgeries safer. In addition to teaching the next generation of spine specialists, we train veteran doctors from South Carolina and across the country who wish to learn new, advanced techniques.
Award-winning program: Several organizations have recognized our center for superior care and services:

Blue Cross Blue Shield has recognized MUSC Health as a Blue Distinction Center for Spine Surgery. This designation means that we provide high-quality specialty care for spine conditions.
Becker's Hospital Review has named MUSC Health one of the top 100 Great Hospitals in America. The publication has also identified us as one of the top 100 Hospitals with a Great Neurosurgery and Spine Program.
The American Nurses Credentialing Center (ANCC) has awarded MUSC Health with Magnet Recognition, achieved by less than 10 percent of the nation's hospitals. To earn this mark of excellence, hospitals must provide nursing care that's compassionate, innovative, and backed by the best available evidence. 
Spine Conditions We Treat 
We treat a wide range of spine conditions that can cause back and neck pain. Pain can occur in several regions: the lumbar (lower back), thoracic (middle back), and cervical (upper back and neck).
Spine conditions we treat include:
Degenerative disc disease, the wearing down of the natural shock absorbers between vertebrae
Disc herniation, when the softer center of a spinal disc pushes through its exterior
Fractures
Infections
Sciatica, pain that starts in the spine and shoots down the leg
Spinal deformities such as adult scoliosis, kyphosis, and spondylolisthesis
Stenosis, or narrowing of the spinal canal
Tumors
Quality Recognition
Beckers Named MUSC as one of the top 100 hospitals in neurosurgery and spine care.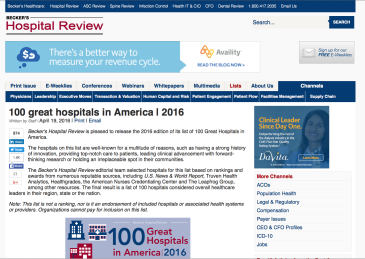 Designated BlueDistinction Center©

Blue Distinction Centers (BDC) met overall quality measures for patient safety and outcomes, developed with input from the medical community. A Local Blue Plan may require additional criteria for facilities located in its own service area; for details, contact your Local Blue Plan. Blue Distinction Centers+ (BDC+) also met cost measures that address consumers' need for affordable healthcare. Each facility's cost of care is evaluated using data from its Local Blue Plan.