Steve's Story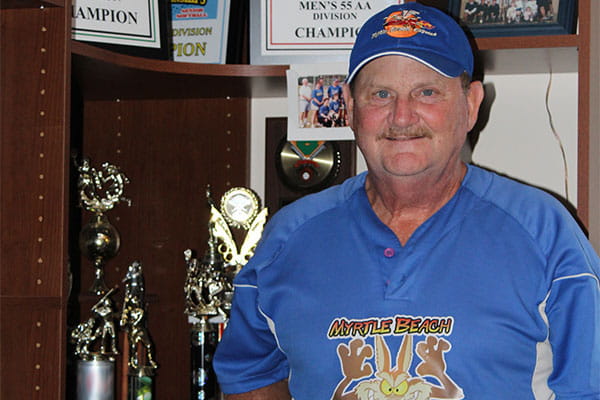 Last year, Steve Dye thought he might lose the ability to walk after a thoracic disk ruptured, putting extreme pressure on his spinal cord. Dye was using a cane to get around when a doctor told him he needed specialized surgery. Dye chose the MUSC Spine Center.
Five months later, he was able to rejoin his softball team for a game that had an ending that could have come straight from a movie. "I find myself standing in the softball field all by myself," Dye wrote in a testimonial to the doctors at the MUSC Health Spine Center. "My team was with me seconds ago, but they have all run off the field."
Then he heard clapping. It was his fellow softball players. They knew he'd gone from being afraid that he'd end up paralyzed to being able to walk normally again.
"As I fight back tears, I realize the applause is for me," Dye wrote. "I must pass it on to the doctors, nurses, friends, and family who made it possible for me to be standing on that field."
Dye's surgeon, Stephen Kalhorn, M.D., said that's the kind of story that makes him love coming to work each morning. "It reaffirms our cause," the complex spine surgeon said. "We take on the most challenging of cases, the most advanced spinal issues that come from across South Carolina and the Southeast United States. The reward for this is seeing your patients doing well."
Dye, whose thoracic spine surgery turned him into a "walking medical miracle," as his friends call him, wants other people with spine problems to know that there is hope.
It's often not a one-stop fix. Dye struggled with back problems for years and is still not able to do everything he'd like to do. "Although I have now 'mastered' walking, I still have a goal to be able to run again," he writes. "Would somebody please tell me I can't do it. It will motivate me to make it happen. I will run again."
Kalhorn said he should be able to. "I think Mr. Dye is doing great."