MUSC offers several dental care options for you to choose from, based on your budget, medical necessity, and other considerations.
Dental Student Clinics
If you can schedule your treatment well in advance, you might want to take advantage of our Dental Student Clinics, which offer exceptional care by our dental students, at a lower cost.
Graduate & Resident Clinic
If you can't wait as long to be seen, and don't mind if you see a different dentist from appointment to appointment, then you may want to schedule with our Graduate & Resident Clinic.
Dental Faculty Practice
you would like to continue to see the same dentist for each visit, then our Dental Faculty Practice, described below, is your best option.
Dental Faculty Practice
In our Dental Faculty Practice at MUSC Health, dentistry is performed by full-time faculty members, skilled in all aspects of oral health care. They have all had postgraduate training and extensive clinical experience. These faculty members are responsible for educating future dentists and supervising students and residents in the provided patient clinics, while also providing quality care to patients in faculty practice. 
Services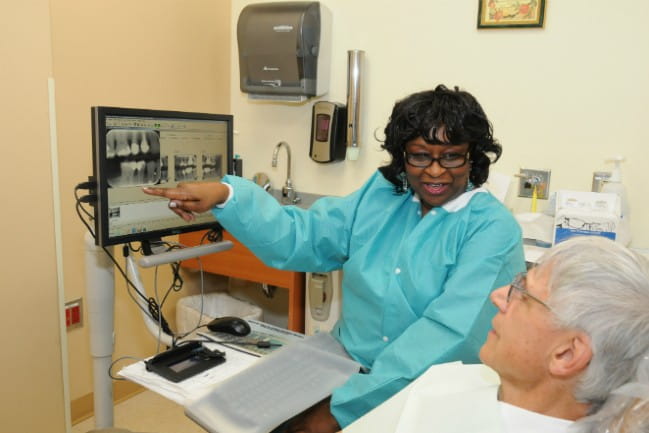 Our practitioners use the latest techniques and procedures and provide a comprehensive approach to quality dental care, completing treatment plans that include fillings, crowns, bridges, dentures, root canals, scaling, and root planning.
The practice includes dental specialty care in the following areas:
Endodontics
Pediatric Dentistry
Periodontics
Oral Pathology
Oral Surgery
Orthodontics
Radiology
Technology
Our state of the art technologies include CadCam dentistry. Benefits of this system include:
Same-day permanent crowns.
Digital impressions, eliminating the need for mouth trays, and impression material.
No need for temporary crowns.