Are You a Candidate for Weight Loss Surgery?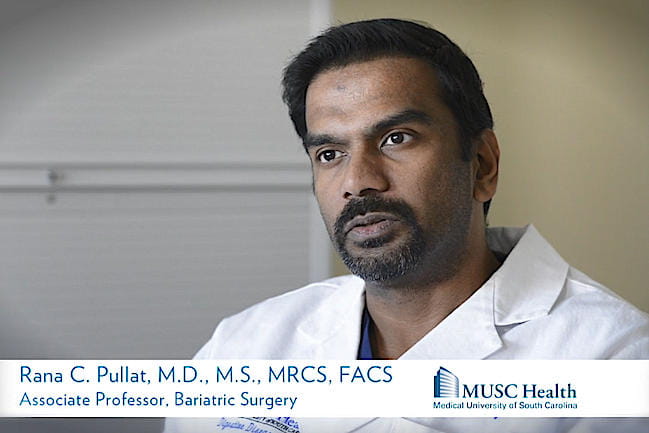 Bariatric Surgery FAQs
Dr. Karl Byrne and Dr. Rana Pullatt answer frequently asked questions about bariatric surgery.
Questions & Answers
Dr. Karl Byrne and Dr. Rana Pullatt answer frequently asked questions about bariatric surgery.
Criteria for qualifying for weight loss surgery typically centers around calculating how much excess weight you are carrying or your current Body Mass Index (BMI). This criteria can include the following:
You are more than 100 pounds over your ideal body weight
You have a BMI of over 40 kg/m2
You have a BMI of over 35 kg/m2 and are experiencing severe negative health effects, such as high blood pressure or diabetes, related to being severely overweight
You are unable to achieve a healthy body weight for a sustained period of time, even with medically-supervised dieting
Steps to Weight Loss Surgery
 View our Steps to Weight Loss Surgery for our program-specific protocol for appointments with our interdisciplinary team of specialists including surgical evaluation, nutritional evaluation, psychosocial evaluation, and lab work
Other Requirements
After surgery, patients should be able to commit to frequent clinic visits, classes/support groups and behavior change for optimal success.
Patients must be aware of and accept the risks associated with surgery and dramatic weight loss.
While you may be an ideal candidate for bariatric surgery, your decision may depend on insurance coverage. We strongly recommend contacting your insurance company to determine if you have coverage for bariatric surgery before starting the process. It can be disappointing to get started only to find out your insurance company will not cover surgery. We do have self-pay options available if that is an option for you.
Non-Surgical Programs at MUSC
We are now offering the non-surgical intragastric balloon procedure placed through endoscopy, and a comprehensive nutritional management program for 1 year.
MUSC Health Weight Management Center provides a number of non-surgical programs to help patients lose weight if you decide against bariatric surgery, or if you determine that you do not have insurance coverage and self-pay is not an option for you.