Father's Day Marks a Day of Gratitude for the Calvins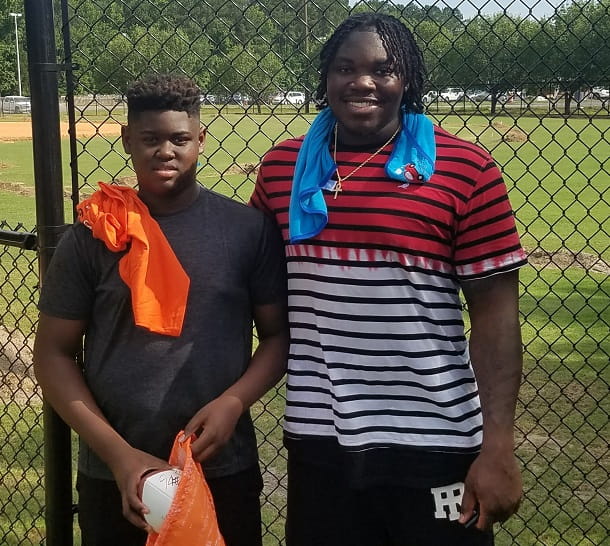 As Father's Day approached this year, James Calvin of Moncks Corner recalled a journey he and his wife had experienced that gave Father's Day a more powerful meaning and filled his heart with appreciation.
He decided to do something about his gratitude and began searching for Dr. David Soper, an OB specialist at MUSC Health Women's Care. Calvin searched the MUSC website until he found Dr. Soper along with his email address.
On Father's Day, he sent him an email that read, "Dr. Soper, I am grateful for the procedure you did on my wife over 14 years ago. For that we have two beautiful kids that you probably haven't seen. For me, this is what makes Father's Day so special. I thank you for what you and Dr. Carter did. Have a blessed Father's Day from James and Alvina Calvin."
Some 15 years earlier, Dr. Soper and Dr. Carter at MUSC adopted a minimally invasive surgical approach to an older procedure that led to a successful pregnancy and birth of the Calvin's first child and later their second.
Alvina Calvin had an incompetent cervix that resulted in the loss of two previous pregnancies during her second trimester. As the child develops and puts additional weight on the cervix, the cervix opens early and is unable to carry the added weight. The Calvins were close to giving up when they were referred to Dr. Soper.
Alvina recalled, "I was the first person at MUSC to receive the laparoscopic cerclage procedure. They inserted a piece of mesh and then sewed up the cervix prior to my becoming pregnant." She needed to lose 35 pounds before surgery and also needed time to heal.
She received a laparoscopic abdominal cerclage that was performed through the belly button.
Dr. Soper said, "In the past, prior to adopting a minimally invasive approach to this procedure here at MUSC, patients had a large incision, like a cesarean-type incision, to have a stitch put around the cervix abdominally to prevent pregnancy loss."
"Essentially women with two second trimester pregnancy losses including a failed vaginal placement of a cerclage are candidates. There is a 75 percent take home baby rate with this," he said.
In her case, about six months later following the procedure she became pregnant, and she was placed on immediate bed rest. She remembered the difficulty of being on constant bed rest and remains appreciative of her husband's constant care and support from family members. Referring to her husband, she said, "He was awesome."
Not wanting to take any chances and following an amniocentesis test to make certain the lungs were developed, Alvina had a cesarean birth and Evan James Calvin was born.
James Calvin said, "Today Evan at 14 years old is 6 feet 3 inches tall and weighs 272 pounds. He plays football and enjoys all sports. I am very blessed and grateful to Drs. Soper and Carter and to MUSC."  The Calvins were able to have a second child, Breanna Tamarya, four years later, with assistance from Dr. Soper and the laparoscopic abdominal cerclage.
The Calvins, 15 years later, remain appreciative of the special care and support they received at MUSC.
"Everyone was so patient and concerned for me," Alvina said. "Any woman going through this just needs patience, prayer and perseverance." 
According to Alvina Calvin, "Prayer and faith brings success."