Katie Deerin Testimonial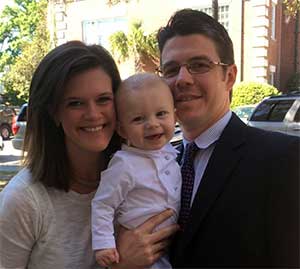 Katie Deerin always knew she wanted to work at MUSC Health, so when an opportunity presented itself, she jumped at it to join the orthopaedic marketing team. What she didn't realize then is that in her future, the medical health system she held in high regard would be instrumental in her care and the birth of her precious son William.
Married in 2015, she was ecstatic to learn she was pregnant. She didn't hesitate to find a physician affiliated with MUSC Health. The physician she chose Dr. Ashlynn Savage was nothing short of a dream come true according to Katie. "I truly felt like I had the golden ticket," she said. "She was the perfect doctor."
"The whole process was so good, and I felt educated all the time. I saw her mostly in the downtown office and once in the Mt. Pleasant office. Her resident saw me too, while she was on vacation," she said. "They were all fabulous in their care."
Katie was diagnosed with high blood pressure early on and was closely monitored throughout her pregnancy. At 39 weeks, it was recommended that they induce labor.
"I was worried, but there was so much support from everyone… the nurses, the anesthesiologist, the physicians and medical students. All my questions were answered, and I felt like everyone was there to provide comfort and support."
Labor was slow in the beginning. She sent her husband off to eat something and of course, then labor accelerated. She pushed for nearly three hours. During that time, she saw lots of activity around her, but she said everyone was always calm and never made her feel nervous.
Chief resident Candice Greenan delivered a healthy 7 lb. 6 oz. boy on July 22. Dr. Savage was there immediately after to meet her new son.
"The whole experience was lovely. At MUSC Health, we promote that we change what's possible. If you believe that, you want to be here. I feel like I am part of a family. I trust those that I'm promoting and working with at MUSC Health. I won't hesitate to have my next child here."