"I Will Only Deliver at MUSC"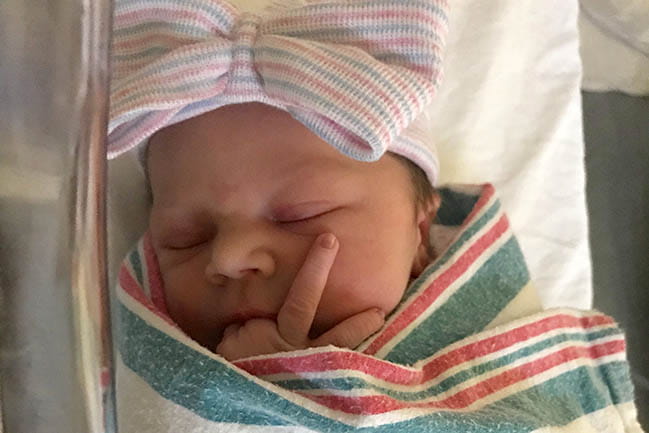 Sarah Murphy has a bias for MUSC. She studied at the University of South Carolina and earned her bachelor of science degree there and then went on to MUSC where she earned her doctor of physical therapy degree. It isn't any surprise that she is part of the outpatient physical therapy team at MUSC at the main campus in Charleston.
But Sarah's bias turned into much more when she and her husband, Lockwood, experienced MUSC Women's Health firsthand when Sarah gave birth to their first child, Harriet "Hattie" Rose Murphy, on August 24.
Her pregnancy was in Sarah's words "a great, normal experience," and she was enjoying her pregnancy under the care of Dr. Ashlyn Savage, MUSC board-certified obstetrician and gynecologist. At 38 and half weeks, Dr. Savage discovered that Hattie was in a breech position. Attempts to flip her, didn't work, and Dr. Savage performed a C-section delivering a healthy 8 pound 1 ounce baby girl.
In the hospital, Hattie experienced a couple of cyanotic episodes, where an infant turns a blue or purplish color. While concerned, Sarah said she learned that this sometimes happens with babies who have a caesarian birth. The episodes stopped, and they were discharged.
The next day Sarah and Hattie visited her pediatrician and worked with the lactation consultant. Unfortunately, the episodes started again. After two back-to-back episodes, they decided Harriet needed to be admitted to MUSC Children's Health.
"I was scared and felt so out of control, but everyone was wonderful," said Sarah. "Multiple tests were conducted, and she was seen by many pediatric specialists like ENT and cardiology and she had a brain ultrasound. I knew we were in the right place."
Hattie remained in the hospital for several days and mom stayed by her side. "The nurses sent me home so I could get some sleep, but I knew she was in good hands," she said.
In the end, she was diagnosed with serious reflux, and at one month, she was able to treat it with medicine. Now at six months, Hattie weighs 18 pounds and is thriving.
Sarah could not say enough about the specialty providers, the fellows and attending physicians, who explained everything and put her and her husband at ease.
"They made a bad situation so much better," she said. "Everyone was just really helpful. It was a stressful time, but they helped to ease our concerns."
Thinking back about the entire experience she said, "I had the best providers around and felt the most cared for. If something had gone wrong, I knew they would do everything possible for us.
"I remember Dr. Savage staying with me for a long time and checking on me. Hattie's pediatrician called me at home to check on her. Even my visits during prenatal care to the Cannon Street office were amazing. Everyone was so nice from the women at the front desk, to the nurses and even the woman who drew my blood. "
"I'm really happy I delivered there. I feel like I had the best staff, and if I'm fortunate enough to have a second child, I will only deliver at MUSC," she added. "I look forward to the new Shawn Jenkins Children's Hospital and Pearl Tourville Women's Pavilion opening. The nice new facility will match the quality of the team. The doctors and staff are very educated and kind, and the facility will match the team."