Candace Greenan, M.D., Testimonial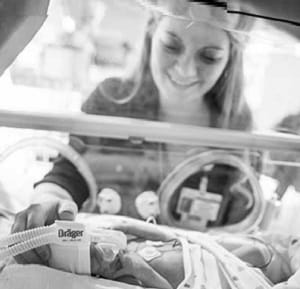 The day started just like any other day for OB/GYN resident Candice Greenan, who was nearly 30 weeks pregnant. She was standing in front of a computer at work, when she suddenly began not feeling well. She was losing her vision, and her blood pressure soared. Fortunately, she was in an environment with all the technology and expertise to meet her needs and those of her child.

She was admitted to MUSC Health the same day and diagnosed with preeclampsia. Preeclampsia is a pregnancy complication that is characterized by high blood pressure and can begin in women after 20 weeks of pregnancy, who have previously had normal blood pressure. Without treatment, it can lead to serious, even fatal, complications for mother and child.
In her case, even greater complications were found as an ultrasound showed the baby to be growth restricted, and the baby was breech (not head first).
Her tiny son was delivered by C-section two days later and went immediately to the NICU. He weighed two lbs. seven ounces. His Apgar scores, which assess how a newborn is doing at birth, were low.
"Hearing all this as a patient is so different," she said. "I was scared."
Jack spent his next 70 days in the hospital with most of those days in the NICU. Candice returned to work in two weeks and spent as much time as possible with him. She was there often for feedings and would spend hours with him at night.
"The NICU nurses were absolutely fantastic. They each treated him like he was their own son.
At Halloween he had two costumes. They dressed him like a Minion and a guitar player. It was great to be able to have a little fun during a stressful time." Reflecting on her MUSC Health experience, she said, "As terrifying as it was, being a patient in the education system that has trained me to be a physician was reassuring. I knew that at MUSC Health we had all the experts and resources we needed. Knowing you have so many eyes watching over you makes such a difference. I wouldn't have wanted to deliver anywhere else.
We are so thankful for every staff member we interacted with a long the way. From the NICU team to the L&D nurses everyone was cheering Jack on. We are forever grateful for all of the love and care we received at MUSC Health."