MUSC Heart Transplant Program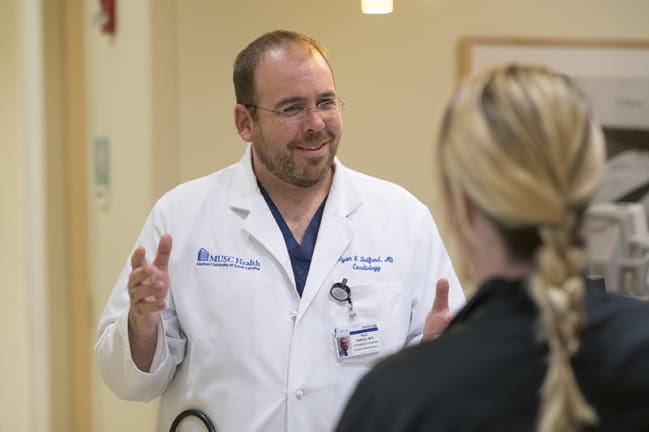 Heart transplant surgeons at MUSC Health performed the state's first heart transplant in 1987. Since then, we've saved the lives of more than 530 people with advanced heart failure. As the only heart transplant program in South Carolina, we provide you with more options to help you enjoy a longer, more productive life. 
Why Choose MUSC Health for Heart Transplant?
Our doctors are some of the world's foremost heart experts. We have an exceptionally skilled team of cardiologists and transplant surgeons, who are board-certified in advanced heart failure, cardiovascular disease, and transplant cardiology. Our heart transplant specialists are always by your side, carefully guiding you through every step of the transplant process.
Team Approach to Care
Your transplant team consists of specialists from many disciplines, including transplant surgeons, transplant cardiologists (heart doctors), nurses, behavioral health specialists, dietitians, and social workers. This team works with you and your referring physician to provide you with personalized care and ensure your transplant is a success.
Speed & Excellence
Our transplant team has dedicated their careers to providing outstanding care. For you, this commitment means:
Shorter transplant wait time: Our status as the state's only heart transplant center means less of a transplant wait for you. Since 2016, the average wait time for a heart transplant has been approximately 80 days. This wait time is among the lowest in the country.
Lower heart rejection rates: All donor hearts from South Carolina come to us first for potential matching with a recipient. Because our cardiologists and surgeons are selective when matching recipients with donor hearts, there is less risk of organ rejection.
Quicker recovery: Our exceptional care lowers your risk of postoperative complications. As a result, we have one of the shortest hospital recovery periods in the country. Less time in the hospital also means less infection risk for you.
Excellent outcomes
Complete Heart Failure Care
Depending on your heart condition, you might need a ventricular assist device (VAD) or other mechanical circulatory support device to help your heart pump blood. Our Advanced Heart Failure Program offers the most treatment options in the state, including the newest generation of VADs. Your options include:
Bridge-to-transplant VADs temporarily support your heart until a donor heart becomes available.
Destination therapy VADs provide a long-term option if you don't want a transplant or are physically unable to undergo surgery.
Multiple Organ Transplants
If needed, our highly skilled transplant team can perform a combination heart-kidney transplant. This procedure is typically reserved for younger patients with few health complications.
Cardiac Rehabilitation
Exercise specialists at our cardiac rehabilitation program offer a supervised health and wellness program for people who have had heart transplants. After your surgery, these specialists work with you to strengthen your body and your new heart.
Heart Transplant: What to Expect
Evaluation & Waiting List
You'll undergo an extensive medical evaluation and screening process to determine if you're a suitable candidate for a heart transplant. This process involves multiple medical tests to evaluate your overall health, including an EKG, chest X-ray, heart catheterization, ultrasound, cardiopulmonary stress test, and blood work.
You'll also complete a screening with a social worker to identify issues that could negatively affect your transplant process and recovery. We make sure that you have a good support system to aid in your recovery.
As soon as you're approved for a heart transplant, we'll place you on the United Network for Organ Sharing (UNOS) waiting list. UNOS uses several factors, including medical urgency and blood type, to match recipients and donors. Transplant wait times at MUSC Health tend to be shorter than the national average because we're the only ones in the state offering this procedure.
Surgery & Recovery
When a donor heart becomes available, you'll undergo transplant surgery at MUSC Health. The surgery can take four to six hours depending on the complexity. After surgery you'll spend at least 24 hours in our intensive care unit. Most of your recovery takes place in our dedicated organ transplant unit. You can expect to be in the hospital for approximately 12 days. This hospital stay is among the shortest in the country.
Support Services
Receiving a new heart is a life-changing experience that requires a strong commitment from you and your caregiver. After discharge, you and your caregiver need to stay in the Charleston area for six to eight weeks for ongoing post-transplant care.
Our patient support services team provides high-level help before, during, and after your transplant. Our patient care coordinators assist with:
Housing and transportation during your stay in Charleston.
Insurance coverage, prior authorizations, and billing issues.
Coordinating appointments and medical tests.