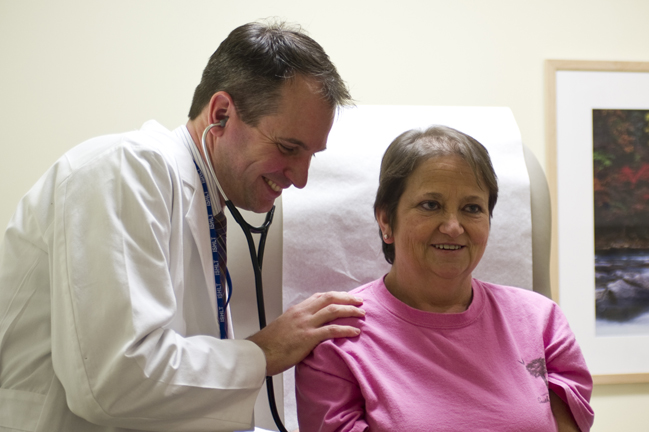 As the only transplant center in South Carolina, MUSC Health excels at lung transplant surgery for people living with advanced lung disease. We offer lung transplant for people with many types of lung disease, including pulmonary fibrosis, cystic fibrosis, pulmonary hypertension, and other obstructive lung diseases. 
Specialists at our Transplant Center have the expertise and experience needed to guide you through the lung transplant process and help you breathe easier again.
Ann Marie Sings!
Ann Marie worked with a voice coach before and after her lung transplant.
Patient Story
Ann Marie worked with a voice coach before and after her lung transplant.
Why Choose MUSC Health for Lung Transplant?
Our lung transplant team works closely with you to develop a personalized treatment plan, helping you achieve greater health before and after your transplant.
Unmatched Knowledge & Expertise
We use a multidisciplinary approach to provide the best care possible for each patient. Our board-certified surgeons work closely with transplant pulmonologists (lung doctors), pharmacists, nurses, psychologists, and social workers who are all specially trained in lung transplant medicine. Our shared expertise provides you with unmatched medical care.
Surgical Innovation
We're pioneering new surgical techniques to improve outcomes and shorten hospital stays for people undergoing lung transplant. For example, our skilled surgeons transplant donor lungs individually in a sequential transplant procedure, instead of transplanting the lungs as a single unit. This technique increases your chances of a better long-term result.
Advances in Research
MUSC Health is one of the largest research centers in the country for pulmonary fibrosis. We work closely with the Pulmonary Fibrosis Foundation to advance our understanding of the disease and therapies to treat it. As a designated Cystic Fibrosis Center, MUSC Health is heavily involved in clinical trials that help people with cystic fibrosis manage their lung disease so they can breathe easier. We are also a proud member of the Cystic Fibrosis Foundation's Therapeutics Development Network.
Lung Transplant Surgery: What to Expect
Evaluation & Waiting List
The first step in the lung transplant process is an extensive evaluation and medical screening. You'll complete several medical tests, including pulmonary function tests, EKG, chest X-ray, and blood work, to determine whether a lung transplant is safe for you. You'll also meet with members of the transplant team to ensure you understand the transplant process and have a support network in place.
If a lung transplant is the best treatment option for you, we'll place you on the United Network for Organ Sharing (UNOS) lung transplant waiting list. UNOS bases organ matching on several factors, including blood type, height, medical urgency, and time spent on the transplant waiting list.
Surgery & Recovery
When UNOS matches you with suitable donor lungs, you'll come to MUSC Health for your operation. On average, lung transplant surgery takes about six hours, but there are many factors that influence the total length of the procedure.
Pulmonary rehabilitation is especially important after lung transplant. You'll stay in Charleston for approximately three months as you attend regular rehabilitation sessions to regain lung function and improve your health. After this period, your transplant team is still available by phone 24 hours a day, seven days a week, 365 days a year.
Patient Support for Lung Transplant
The details of a lung transplant can be overwhelming at times, and MUSC Health works to support you at every step. We take our commitment to your health seriously, and we help by:
Inviting you to participate in our monthly lung transplant patient support group.
Helping to arrange housing and transportation while you stay in Charleston, if needed.
Linking you with a "buddy" who has already had a lung transplant, which provides a source of support and encouragement.
We offer a wide range of additional services for you and your family throughout the transplant process. Learn more about our patient support services.