Pancreas Transplant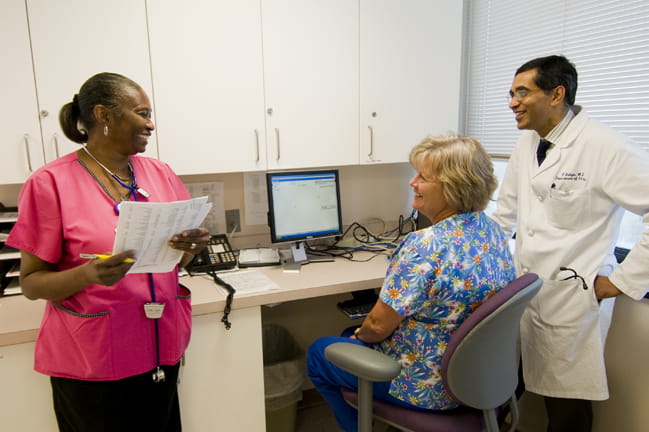 For almost 25 years, transplant specialists at MUSC Health have provided lifesaving pancreas transplants to patients with insulin-dependent diabetes. As the only transplant center in South Carolina, we often take on challenging pancreas transplant cases involving high-risk patients, like those with certain cardiac conditions.
Our talented transplant team considers every aspect of your life – from your physical health to your emotional well-being – to create a personalized treatment plan that ensures the best possible results for you.
Why Choose MUSC Health for Pancreas Transplant?
Our entire pancreas transplant team, including board-certified transplant surgeons, anesthesiologists, nurses, pharmacists, and social workers, has special training to care for transplant surgery patients.
Surgical Expertise
Specialists at MUSC Health's Transplant Center perform several types of pancreas transplant, offering multiple approaches to meet the unique needs of each patient. These procedures include:
Pancreas transplant alone (PTA): Our surgeons perform this procedure if you have insulin-dependent diabetes with severe complications. A pancreas transplant allows your body to maintain a normal blood sugar level without the use of insulin.
Pancreas-after-kidney (PAK) transplant: If you've had a kidney transplant but are still using insulin, and you have severe diabetes complications, a PAK transplant could be right for you.
Simultaneous pancreas-kidney (SPK) transplant: This type of transplant is for people living with insulin-dependent diabetes and advanced chronic kidney failure. During this operation, surgeons replace both the pancreas and the kidney with donor organs. Learn more about simultaneous pancreas-kidney transplant.
Pancreas Transplant Surgery: What to Expect
Evaluation & Waiting List
The pancreas transplant process starts with a thorough evaluation and screening. You'll meet with health care providers from multiple specialties and undergo several medical tests, including an EKG, chest X-ray, and blood work. This evaluation process helps us determine your health status, the extent of your diabetes and whether a pancreas transplant would be safe for you.
If a pancreas transplant is the best treatment choice, we will place you on the United Network for Organ Sharing (UNOS) pancreas transplant waiting list. UNOS uses several key factors to guide their organ matching process, including medical urgency, blood type, and time spent on the transplant waiting list.
Surgery & Recovery
When UNOS matches you with a pancreas, you'll come to MUSC Health for this lifesaving surgery. Following pancreas transplant surgery, you'll recover in our dedicated transplant unit. MUSC Health has developed several patient-centered recovery protocols, allowing our transplant patients to have some of the shortest hospital stays in the nation.
Even though getting you home faster is key to a better recovery, you'll have regular follow-up care and consultations with your transplant team after discharge. And you can call us anytime, 24/7, with any questions or concerns.
Pancreas Transplant Support Services
MUSC Health is dedicated to making the pancreas transplant process as easy as possible for you and your loved ones. Your transplant team includes social workers, behavioral health specialists, and financial counselors who support you by:
Double-checking your insurance benefits and completing prior authorizations to ensure coverage for tests, surgery, and follow-up care.
Arranging and organizing your appointments with your transplant team.
Finding transportation and accommodations to make your time at MUSC Health easier, if needed.
In addition, we offer a wide range of support programs to help and encourage you in this journey. Read more about our patient support services.