Referring Physicians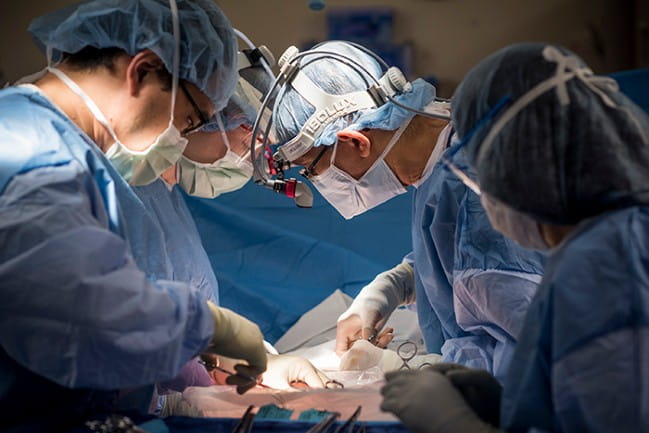 MUSC Health welcomes organ transplant patients referred from health care providers in our surrounding communities and across the nation. We're committed to creating a productive relationship with you to help your patient achieve the best health possible.
As the only solid organ transplant center in South Carolina, MUSC Health combines surgical expertise with dedication to personalized patient care. According to the latest data from the Scientific Registry of Transplant Recipients (SRTR), our surgical outcomes match or exceed national averages for each type of organ transplant we perform.
To better serve you, there are several ways to begin the organ transplant referral process.
MEDULINE
MEDULINE, MUSC Health's dedicated consultation and patient referral line, is available to you 24 hours a day, seven days a week. Our MEDULINE representatives can connect you to appropriate referral resources and will stay on the line with you until you're connected. Please call MEDULINE at 843-792-2200 or toll-free at 800-922-5250 to speak with our representatives.
CareLink
For your convenience, you can also make patient referrals for organ transplant using MUSC Health's CareLink system. Please log in to begin the referral process.
Additional Resources
To better assist you in the referral process, we've gathered information about patient selection criteria for each transplant service line. For additional questions about selection criteria or referrals, please call 843-792-5097.
Please use the following resources to help facilitate your patient's referral to MUSC Health (All forms are PDFs unless otherwise noted).
Kidney Transplant
Heart Transplant
Liver Transplant
Pancreas Transplant
Lung Transplant
For referrals to our lung transplant program, or for a lung transplant consultation, please call our lung transplant data coordinator at 843-792-4773 between 8:30 a.m. and 5 p.m. Monday through Friday. You may also use the following resources to help facilitate your patient's referral to MUSC Health.
Living Donor Program