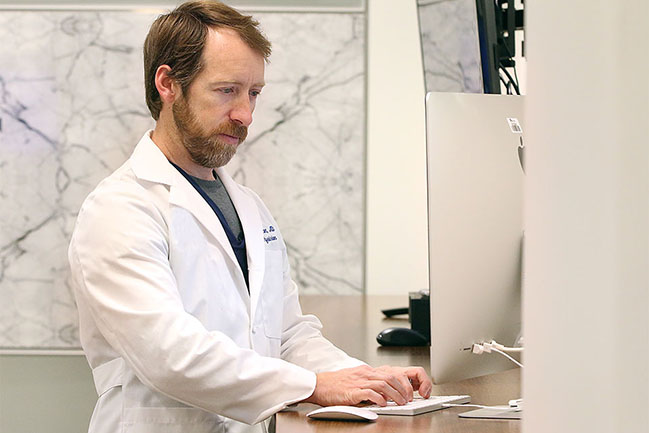 Doctors at MUSC Health are seeing a spike in flu-related e-visits, which are up more than 200 percent over last flu season. Emergency medicine specialist Edward O'Bryan says they help keep the virus from spreading.
"We don't want people to have to go to their doctor's office if they have the flu, because they can give it to people in the waiting room. Or if you think you have the flu and you don't, guess where you're going to pick it up? The waiting room."
He's encouraging people who think they have the flu but aren't sick enough to be in the hospital to consider e-visits or video visits.
E-visits are available to people who already have an MUSC Health connection and have a MyChart account. Once they log in to MyChart, they'll see the e-visit option. Click on it, and the session launches. The cost is $25. The patient can choose "flu" from the list of diagnosis options, then select from a list of symptoms.
Emergency medicine doctors such as O'Bryan regularly check for incoming e-visit requests and respond by email within a few hours, sending prescription orders to the patient's pharmacy if needed. E-visits are available 24 hours a day. There have been about 70 flu-related e-visits since the new year.
Video visits are for people who have not seen an MUSC Health doctor or nurse within the last three years but do have insurance. They're available on a more limited basis, O'Bryan said, typically from 11 a.m. to 1 p.m., during the time people are usually taking a lunch break if they're at work and have time to do the visit.
O'Bryan said diagnosing the flu via technology instead of in person works well, and patients don't need to be swabbed for a formal flu test for doctors to know what they likely have. "Charleston County is running low on flu swabs anyway. If you get the swab, guess what percent accurate that swab is? Sixty percent," O'Bryan said.
"The truth is, it's a matter of us using our best clinical judgment to decide whether you have the flu, and we feel like to a very high degree of certainty, we can tell you whether you have the flu just based on your clinical symptoms and treat you appropriately for it."
And the MUSC Health doctors are local, he said, unlike the doctors available through national video visit websites. The Lowcountry doctors are nearby and easy to reach if the patient needs more help.
South Carolina has had more than five weeks of widespread flu activity this flu season, according the Department of Health and Environmental Control. Last week, the demand for flu treatment was so high in the MUSC Health Emergency Department that administrators set up a temporary flu clinic to ease the strain. It will reopen if needed.
In the meantime, O'Bryan encourages people to give technology a try. "Not everybody gets Tamiflu," he said, referring to the flu medicine. "You have to be within 48 hours of the onset of flu symptoms or have another major medical medical issue to get Tamiflu. It doesn't do much good, otherwise.
"But riding to your doctor's office, waiting in the waiting room or waiting in the waiting room in the emergency department, where if you didn't have the flu you're going to catch it, and getting the same medicines to help with your symptoms, that would be much easier to do online. Sometimes new technology can actually keep you from getting sick. This is one of those times."