Highly trained specialists and staff at MUSC Health are dedicated to helping those who experience issues related orthopaedics and arthritis live more active lives with less discomfort. Patients of all ages are evaluated and treated with the most innovative technology available at a level of care that can only be found at an academic medical center.

MUSC Health has received the Joint Commission's Gold Seal of Approval® for Hip, Knee, and Shoulder Joint Replacement Certification. The Gold Seal of Approval® is a symbol of quality that reflects an organization's commitment to providing safe and effective patient care.
MUSC Health is proud to have earned U.S. News & World Report 2018 – 2019 high-performing hospital designation in Hip Replacement.
Whether exploring non-surgical options or joint replacement, you will have a team to support you in making the choices that will serve you best.
Conditions We Treat
The Joint Health team provides customized treatment to patients with conditions including:
Osteoarthritis
Rheumatoid arthritis
Psoriatic arthritis
Gout
Fractures
Knee, shoulder, ankle, elbow, and other injured joints
Single or multiple painful joints


Services
Our comprehensive services are designed to assist patients in all of their joint health needs including from the first sign of joint pain through total joint replacements.
MUSC Health's Joint Pain Expert Team assists patients with:
Understanding how to prevent and minimize joint pain.
Managing ongoing conditions such as osteoarthritis.
Non-surgical treatments such as injection therapy.
Recognizing the role of exercise in joint health.
Access to physical and occupational therapy.
Minimally invasive procedures and surgeries.
Total joint replacement.


Patient Resources
Are you considering having a knee or hip replacement? Or just want to learn more about arthritis, and what you can do to alleviate arthritis pain?
View recommended online resources from the Joint Health Team:
Bob's Story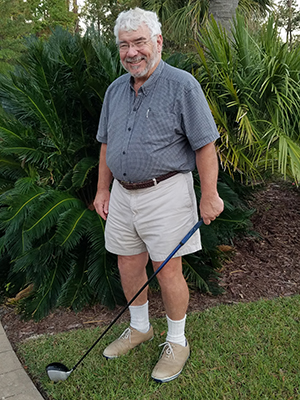 "I had my left knee replaced seven years ago in Chapel Hill, NC. It was a generally positive experience, although a lengthy recovery with five weeks to re-establish full range of motion and seven weeks before I was back at work full time.
This spring, Dr. Pellegrini at MUSC Health replaced my right knee within two days of my 69th birthday.
The replacement was performed with a spinal anesthetic, plus a nerve block catheter in my thigh, and Tylenol, an anti-inflammatory, and a blood thinner to reduce any chance of a clot. The anti-inflammatory and Tylenol were phased out over four weeks and the anti-clotting medication was ended after six weeks. I used a walker for two days and crutches for one day. I used a lot of ice to keep the swelling from impeding motion.
I understood the importance of doing the physical therapy. With just some stiffness and almost no pain I had a full range of motion in 13 days and played 18 holes of golf five days later (that's the equivalent of 12,000 steps). At six weeks I flew out of town on business for three days, after which the compression stockings were discontinued.
This was a great experience with no more work disruption than a two-week vacation. The Joint Replacement unit at MUSC was excellent, with a nurse navigator who was always available for any questions we had, and several calls from Dr. Pellegrini just to see how we were doing.
My personal rules are as follows...
Do the physical therapy.
Ask questions.
Stay away from Hydrocodone or Oxycodone if at all possible.
Do the physical therapy.
Ask to be the first case of the day for surgery.
Ask for more physical therapy.
and
Start with Dr. Pellegrini.
Straight shooter, honest man, tons of experience.
– Bob Marriott
Designated BlueDistinction Center©

Blue Distinction Centers (BDC) met overall quality measures for patient safety and outcomes, developed with input from the medical community. A Local Blue Plan may require additional criteria for facilities located in its own service area; for details, contact your Local Blue Plan. Blue Distinction Centers+ (BDC+) also met cost measures that address consumers' need for affordable healthcare. Each facility's cost of care is evaluated using data from its Local Blue Plan.