Maternal Fetal Medicine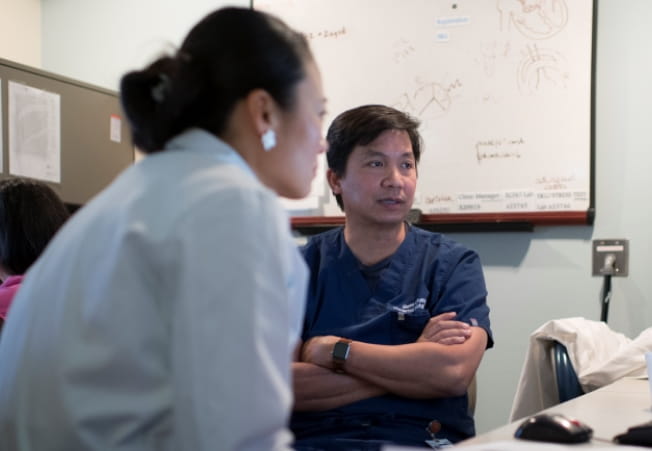 MUSC Women's Health has a team of highly specialized maternal fetal medicine (MFM) physicians whose expertise will ensure the best outcome for you and your baby. They have the expertise to guide your pregnancy so that you and your baby have all the advantages of high-risk obstetric care achieving the best possible outcome.
Patient Testimony
Kimberly McCollum talks about her experience with MUSC Women's Health during her pregnancy and why she recommends MUSC.
Our Approach
Whether you're thinking about starting a family or just beginning a pregnancy, our prenatal (before birth) wellness services can help ensure a healthy start for your child.
Dedicated to helping women enjoy the healthiest pregnancy possible, our Prenatal Wellness Center is staffed by nationally recognized maternal fetal medicine specialists who are specially trained in preconception health, medical complications of pregnancy, prenatal diagnosis, and genetics.
Your OB/GYN may refer you to one of our specialists or you may self-refer (contacting us for an appointment) to the Prenatal Wellness Center. Our physicians will work together with your OB/GYN to provide the specialized care required for you and your baby. In more complex maternal or fetal conditions, your OB/GYN may request your care be transferred to one of our MFM doctors.
Your care will begin with a comprehensive evaluation and consultation by one of the MFM physicians. You may also see other specialists at MUSC Women's Health as needed. Our team of physicians, nurse midwives, genetic counselors, and ultrasound technologists will follow you closely throughout your pregnancy. After your child is born, you will both receive the best care in our obstetrical and neonatal inpatient units. Following delivery, you will have postpartum care with MFM doctors and then can return to your OB/GYN for ongoing care.
Importance of Preconception & Prenatal Diagnosis
Ideally, our MFM specialists will work with you and your partner before you become pregnant to identify and manage potential health conditions and/or exposures that may pose risks to you and your baby and develop a plan to manage those risks. 
Our care team aims to give you and your baby every advantage of risk-appropriate prenatal care. 
Our care team is uniquely positioned to address any and all complications that may arise during your pregnancy and birth of your baby. The MFM physician members of the team are a part of the Advanced Fetal Care Center and work collaboratively with specialists at MUSC Children's Hospital when needed. 
In addition, our physicians are at the forefront of high-risk obstetrical care and also serve as researchers at the Medical University of South Carolina. Receiving care from our team will provide you and your baby with the best advantages before, during, and after birth. 
Advanced Diagnostic Imaging & Testing
We offer a complete range of prenatal testing services, including:
Ultrasound fetal imaging including 3-D and 4-D ultrasonography.
Fetal echocardiography with 2-D, color and pulse Doppler.
Fetal MRIs.
Amniocentesis, chorionic villus sampling CVS, and diagnostic percutaneous umbilical blood sampling (PUBS).
Antenatal testing with Non-stress testing and Biophysical profiles.
While most babies develop normally, approximately two to three of 100 babies are born with a birth defect. Prenatal ultrasound helps our specialists to evaluate your baby's anatomy and growth with specialized fetal imaging techniques. This information allows us to accurately identify and evaluate birth defects early in pregnancy. The ultrasound imaging center at MUSC is the only high-risk centers accredited by the American Institute of Ultrasound in Medicine in the Charleston area. 
Infants with congenital anomalies – a congenital condition is a disorder that happens at or prior to birth – can require especially comprehensive medical care, often including:
Specialized infant and pediatric intensive care units.
Surgery during the newborn period.
Care by interdisciplinary teams with expertise in congenital anomalies.
MUSC Children's Health is uniquely equipped to provide all of these services for your baby.
Genetic Counseling
At our Prenatal Wellness Center, our care teams, including our genetic counselors, help families manage pregnancies at risk for genetic abnormalities. Our genetic counselors have special training in human genetics and counseling, and have become increasingly important as genetic advancements and testing have become more complex.
Some common reasons for a visit with a genetic counselor may include:
A mother who is 35 years of age or older at the time of delivery.
Abnormal screening test results for Down Syndrome Trisomy 18, 13 spina bifida, and genetic carrier testing.
A family history of a genetic disorder or birth defect.
Multiple miscarriages.
Exposure during pregnancy to medications or drugs.
A known fetal abnormality.
Racial or ethnic background with known increased incidence of certain genetic diseases.
Couples who visit a genetic counselor may already have established a pregnancy or may be planning a pregnancy for the future. 
Telehealth
Our maternal fetal telehealth program is available across South Carolina and offers specialty care to women who have high-risk pregnancies, regardless of where in the state they live. This is especially important in rural areas, where a number of counties have too few or no obstetrical providers. Our telehealth program pairs our maternal fetal medicine specialists with local providers to manage the care of women with high-risk pregnancies using secure video technology. It protects a woman's privacy while allowing real-time conversations and helps give all women and their unborn babies a chance to have the best possible outcome. 
The goal of maternal fetal medicine specialists is to assure that you have a successful pregnancy and delivery. Utilizing the advanced technology, research and specialized services available through MUSC Women's Health, our team of specialists will work with you to provide the best possible outcome for you and your baby.
Locations
Women's Health at Cannon
135 Cannon Street
Floor: 2
Charleston, SC 29425
Women's Health University Blvd
North Area Medical Pavilion
8992 University Boulevard
Floor: 3
North Charleston, SC 29406