Family Medicine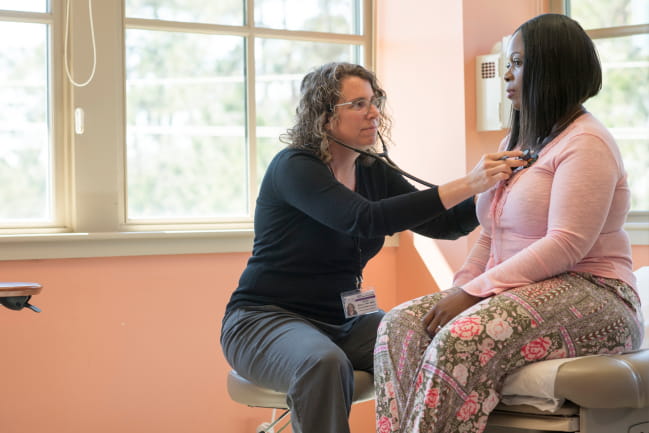 The family medicine providers at MUSC Health make it easy for your entire family to get the care they need to enjoy healthy lives. The medical teams at our Lowcountry family practice locations provide care throughout the entire life spectrum: from newborns to senior citizens.
Family Medicine at MUSC Health: Why Choose Us?
Our family medicine practices offer:
Convenience: With dedicated family medicine practices downtown Charleston and James Island, you're sure to find a provider close to where your family lives, works, or attends school. We also have family medicine providers in our primary care practices across the Lowcountry. We work to make your care as stress-free as possible, offering:

Same-day appointments
Extended hours at select locations
Online care options, such as e-visits and video visits
MyChart electronic medical records for 24/7 access to medical information, scheduling, prescription refills, and other health care needs

Complete care for your family: We care for all ages: from newborns to senior citizens, and everyone in between. Your family can continue to see the same doctor as you age, and you can all receive care at the same practice. Learn more about our family medicine services.
A focus on you: Your health concerns are our priority. We partner with you to develop a health care plan that addresses your specific needs. Our family medicine practices are certified Patient-Centered Medical Homes, reflecting our commitment to personalized care.
Specialized care for chronic conditions: When needed, your provider works closely with disease specialists at MUSC Health. This partnership ensures you get exceptional care to manage and treat chronic conditions.
Pharmacy services: Pharmacists are available to answer your prescription questions, either in person or over the phone. Our pharmacists are also certified diabetes educators.
Advanced treatments: As an MUSC Health Primary Care patient, you have access to new therapies and clinical trials at MUSC Health, South Carolina's top-rated hospital.
MUSC Health Primary Care – Family Medicine Locations
MUSC Health Primary Care practices are conveniently located. You receive exceptional care at all MUSC Health Primary Care practices. Our University Family Medicine - Ellis Oak on James Island and University Family Medicine - Rutledge Tower in downtown Charleston specialize in family medicine.
University Family Medicine Locations
UFM Rutledge Tower Primary Care
Rutledge Tower
135 Rutledge Avenue
Floor: 1
Charleston, SC 29425
Ellis Oak Primary Care
650 Ellis Oak Drive
Charleston, SC 29412