Primary Care Team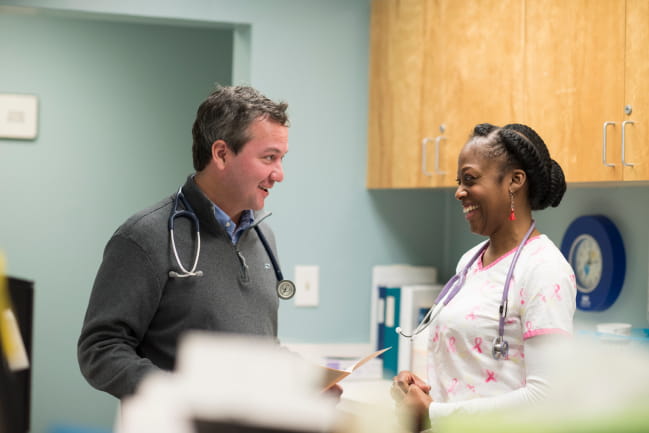 At MUSC Health, you and your family receive exceptional, friendly care from a team of dedicated professionals. Specialists you may meet at your primary care practice include:
Front desk staff helps you check in and out of the office, collect important medical forms, schedule appointments, work with your health insurer, and collect bill payments.
Registered nurses (RNs), certified medical assistants (CMAs) and licensed practical nurses (LPNs) provide a number of health services, including:

Checking blood pressure, weight, and other vital signs
Giving immunizations
Performing lab tests, such as blood work, urinalysis, and strep tests
Providing education and guidance
Coordinating care with your primary care provider

Physician assistants (PAs) and nurse practitioners (NPs) are clinicians who blend expertise in diagnosing and treating health conditions with an added emphasis on disease prevention and health management. These providers practice under the supervision of a physician and bring a comprehensive perspective to health care. An NP and a PA can conduct physical exams, prescribe medications, offer health care education and advice, and treat illnesses and diseases.
MUSC Health Primary Care physicians are board-certified in their fields, meaning they have advanced training in family medicine, internal medicine or pediatrics. They participate in your office visit and are always available if you have questions or concerns.

What is an M.D.? A medical doctor, or M.D., is a physician who treats people for illnesses and injuries. They also prescribe medications, order diagnostic tests, diagnose ailments and record patient information. MUSC Health Primary Care M.D.s specialize in primary care, or "general practice." This means they treat the whole patient to provide acute care, treat chronic illnesses and provide preventive care.
What is a D.O.? A doctor of osteopathic medicine, or D.O., is a fully licensed physician who also practices in all areas of medicine to treat the whole patient, just like an M.D. These physicians have also received special training in the musculoskeletal system, your body's interconnected system of nerves, muscles and bones, to provide comprehensive care. A D.O. focuses on prevention and how a patient's lifestyle and environment can impact well-being.

Social workers provide support and counseling to families when needed.
Professional interpreters are available upon request to help you communicate with your care team. These specialists may interpret medical history and consent information, and explain a diagnosis, treatment plan or procedure.
Pharmacists provide comprehensive medication management for patients who have multiple medications or health conditions, as well as those who have questions or problems with their medications. They also offer diabetic education and disease state management for patients with newly diagnosed or uncontrolled diabetes. Our pharmacists also assist patients with hypertension management and offer smoking cessation counseling.