Why MUSC
Ask your doctor about MUSC
First, let us thank you for considering the Medical University of South Carolina as your health care provider. It is our intention to provide you with the information that you and your family need to feel comfortable with this decision. We consider you as partners and decision-makers in your health care journey, whether you are with us for outpatient services or inpatient care.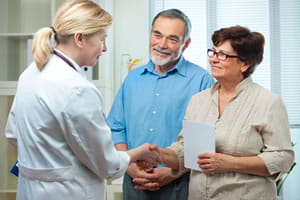 MUSC prides itself on its patient satisfaction skills and offers a multi-disciplinary approach to patient care. Our mission at MUSC Medical Center is to provide excellence in patient care, teaching and research in an environment that is respectful of others, adaptive to change and accountable for outcomes. Our patients have the right to considerate, respectful care at all times and under all circumstances. MUSC Medical Center develops and implements policies which respect the rights of all patients regardless of age, race, ethnicity, religion, culture, language, physical or mental disability, socioeconomic status, sex, sexual orientation, and gender identity or expression.
Speaking with your doctor about where you want to be seen for treatment or procedures is not as hard as you think. MUSC has an outstanding reputation for delivering quality healthcare. Our specialty practices are mentioned frequently in many national and international magazines and journals.
Don't be afraid to suggest MUSC.
Your doctor will probably agree with your decision without hesitation.
MUSC is a teaching hospital, where physicians are trained in the latest advances in medical care.
MUSC is in the heart of downtown Charleston, and is easy to get to from an international airport.
MUSC is a state-of-the-art facility, with the most up-to-date equipment and rooms.
Telling your family
Charleston is a world-class tourist destination, full of history, art, excellent food, and fine entertainment. You can combine your visit with a mini-vacation.
Several new hotels are within walking distance of MUSC.
Charleston's historical district is short walk away.
Wonderful gift shops, and of course, The Market
About Charleston
Charleston, South Carolina, is a city known for its enchantment and charm, as well as its fascinating beauty, history, and culture. Since its settlement in 1670 by English colonists, the charming historic seaport of Charleston has been a favorite vacation and relocation destination.
Steeped in history, Charleston is often called a "living museum."  Its past and present are intertwined like no other city and are evident in its culture, architecture, plantations, and famous gardens.
With its lively and historical festivals and cultural events, there's never a dull moment in Charleston. From the Southeastern Wildlife Exposition every February, to the Spoleto Festival USA held each May, to the wide array of nightlife activities, there is always something going on in Greater Charleston. The mild coastal climate makes Charleston's world-renowned golf courses and beautiful beaches fun to enjoy year-round.
Come to Charleston and see for yourself.