Our Facilities
Clinical
Facilities for providing clinical services in digestive disease diagnosis and management at MUSC Health are focused in Ashley River Tower. It includes the inpatient floor, an ICU for digestive patients, clinics for GI Medicine and Surgery, two interlinked endoscopy suites (for general and therapeutic procedures), operating rooms and all necessary radiology facilities. Digestive specialists also consult when needed in the main hospital building, Children's Hospital and Hollings Cancer Center.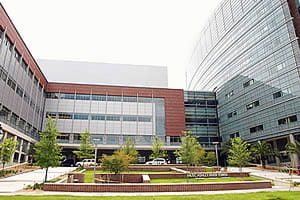 The primary emphasis of the Ashley River Tower has been on making the hospital convenient for patients and their families. This state-of-the-art building features more than 156 beds, including an intensive care unit, operating rooms, laboratories, interventional radiology and endoscopy suites, and a specialized chest pain center.
The hospital is designed to accommodate the most modern medical equipment available, and to offer patients and their families the highest quality of care in a setting that rivals the comfort and style of a fine hotel. While a parking garage is adjacent to the facility, valet service is also available at the building's front entrance. Shopping and dining areas are located in the hospital, as well as many areas for quiet reflection. You may bring your laptop and work while you are here as wireless internet is available.
Education
The Ashley River Tower facility complements its training program with state-of-the-art high-definition imaging equipment that is used by faculty members to instruct fellows and trainees in the proper method of performing endoscopic procedures.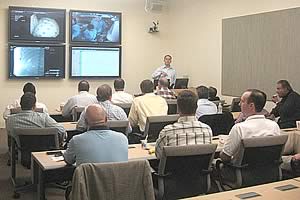 The DDC can also host training seminars in our specially designed conference room where gastroenterologists meet to discuss the latest trends and techniques. And when physicians are unable to come here, our conference room is able to host online video conferences to accomodate them.
Our facilities allow faculty members to perform procedures and discuss the techniques across the room or across the world. The emphasis is on learning the best endoscopy techniques for patient care.
Research
Several faculty members of the DDC have basic science laboratories in their respective Divisions and Departments. The DDC provides space and technical resources for clinical research projects, particularly those related to database development, informatics, multicenter trials, and outcomes evaluation. These facilities and staff interface closely with the Department of Biometry and Epidemiology, the Center for Health Care Research, and The Clinical Innovation Group.
There is an experimental laboratory for development and testing of new interventional techniques. Members of the DDC collaborate with and use the research facilities of other local institutions, including the College of Charleston, Trident Tech, and Clemson University School of Engineering (through the Bioengineering Alliance).